Each Week Lo

ngleaftrading.com will be providing us a chart of the week as analyzed by a member of their team. We hope that you enjoy and learn from this new feature.
Weekly Gold Report (December 2nd through December 6th)
We begin the final month of 2013 with a week full of important economic data. From every major market in the world, there are reports and interviews scheduled that collectively should provide some nice volatility over the next five trading days.
In the United States, we will hear from multiple FED Members throughout the week, including Bernanke, Fischer, and Evans. There are also scheduled releases of manufacturing, GDP, Consumer Confidence, and most importantly Unemployment figures from the Government and the Private Sector.
Economic Policy will be decided by the Central Banks in Australia, England and Europe. It should be interesting to see what we hear from the ECB this week. Last month Interest Rates were dropped by .25, but the decision did not seem to have the impact one would expect from such a move by the Central Bank.
I believe the most important Currency to follow these days is the Japanese Yen. After years of being a "flight-to-safety" favorite amongst Currencies, the Yen has spent the better part of the year getting clobbered due to the BOJ's firm stance on easing the Currency. We are fast approaching this Summers low print, and it should be interesting to see how it performs at this price in the final month of the year.
Gold Futures begin the week at the lower end of last week's range and show very few signs of bargain hunter buying. I still believe that, in the absence of weakness in the equity markets, Gold stands virtually no chance of a recovery rally. If hedge funds grow tired of buying new high prints in equities this week, we may see a bounce in Gold but I think it will take a string of disappointments in the US and abroad to see such a scenario take place. I doubt this is the week for it.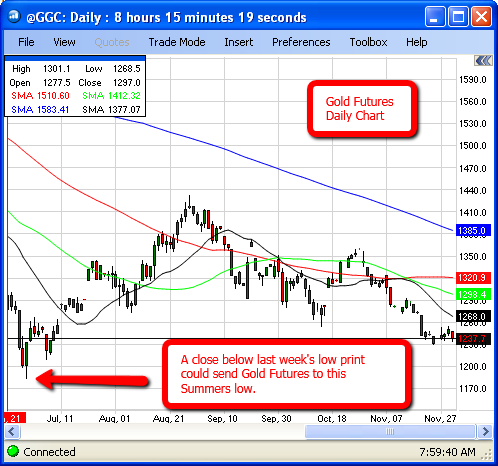 If you would like to discuss trading in the Futures and Futures Options markets with me, please feel free to call or email me directly. You can reach me directly at (888) 272-6926 or by email at [email protected].
Thank you for your interest,
Brian Booth
Senior Market Strategist
[email protected]
888.272.6926
** There is a substantial risk of loss in trading futures and options. Past performance is not indicative of future results. The information and data contained in this article was obtained from sources considered reliable. Their accuracy or completeness is not guaranteed. Information provided in this article is not to be deemed as an offer or solicitation with respect to the sale or purchase of any securities or commodities. Any decision to purchase or sell as a result of the opinions expressed in this article will be the full responsibility of the person authorizing such transaction.