Hello traders everywhere! Adam Hewison here, President of INO.com and co-creator of MarketClub, with your market Outlook for 2014.
Well, here it is 2014, and I would like to wish all of our members, friends and traders around the world a very happy and prosperous new year.
Let's start with the indices which had a spectacular year in 2013, in fact, it was their best year since the mid-90s. Are we likely to see those same returns in 2014? I seriously doubt the indices are going to see double digit growth like they experienced last year. What I do expect to see are much more volatile markets as the Fed begins to extricate itself from its grand experiment. It certainly is not clear to anyone that we are going to get out of this "grand experiment" without any pain. You look at a stock like Netflix (NASDAQ:NFLX), which was certainly the star performer last year managing a gain of 296% for the year, can that continue?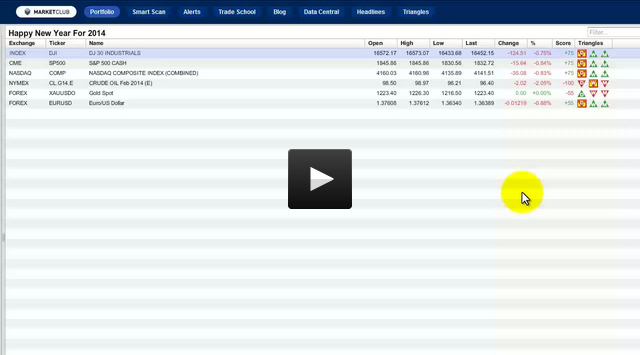 According to a recent poll our blog at least a 50% of the voters expected the trend to continue in 2013. I'm not so convinced, but I would like to see what the Trade Triangles say and go with that strategy in 2014.
Here are some of the head winds I see for this new year;
1. How does the Fed extricate itself out of this grand experiment of Quantitative Easing (QE).
2. Is inflation coming back into the picture?
3. Is talk of a minimum wage hike going to create a problem for businesses and profits?
4. Has gold finally found a base at the $1,200 level? And what's the outlook for this distressed asset in 2014?
5. How much are politics and world events going to create problems for the market?
There are so many uncertainties as we move into 2014 that making any kind of year forward analysis is either egotistical or just plain stupid. I will as always be looking closely at the Trade Triangles and let them tell me which direction the markets are headed. This type of strategy not only puts the odds in your favor, it also saves you time and effort trying to analyze an increasingly complex set of metrics that determine the price of every market.
Every success in 2014,
Adam Hewison
President, INO.com
Co-Creator, MarketClub
Adam appears frequently on the following financial news channels as a guest expert. Click on any cable logo to watch Adam's latest appearance.