One thing I like to do on Friday is look at markets that are strong going into the weekend. After yesterday's implosion in the marketplace, I thought that was going to be a hard thing to do. Thanks to MarketClub's Smart Scan technology, I was able to find five socks that bucked yesterday's downturn and are looking very good.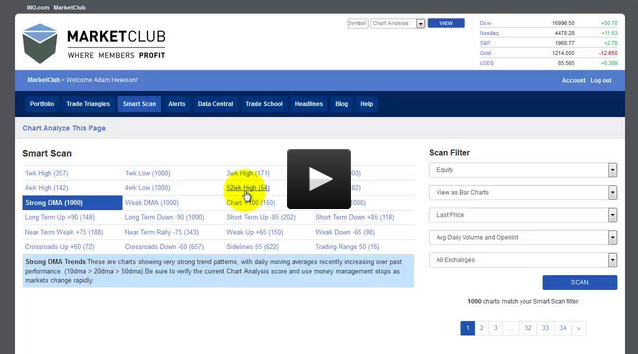 Now you may remember the rules I have talked about for "The 52-Week New Highs on Friday" weekend trade, but just in case you don't know what they are, here they are again.
Rule #1: On a new 52-week high, when the market closes at or near its high on a Friday, buy long and go home for the weekend.
Rule #2: Exit the long position on the opening the following Tuesday.
Rule #3: If the market opens lower on Monday, exit this position immediately.
These are the only three rules you need to trade "The 52-Week New Highs on Friday" successfully.
I invite you to watch the video and look at the five stocks I found using Smart Scan. Then 10 to 15 minutes before the market closes today you can see which stocks are closing at or near their highs for the day.
Have a great weekend everyone,
Adam Hewison
President, INO.com
Co-Creator, MarketClub