Dear INO.com Readers,
New month, new everything!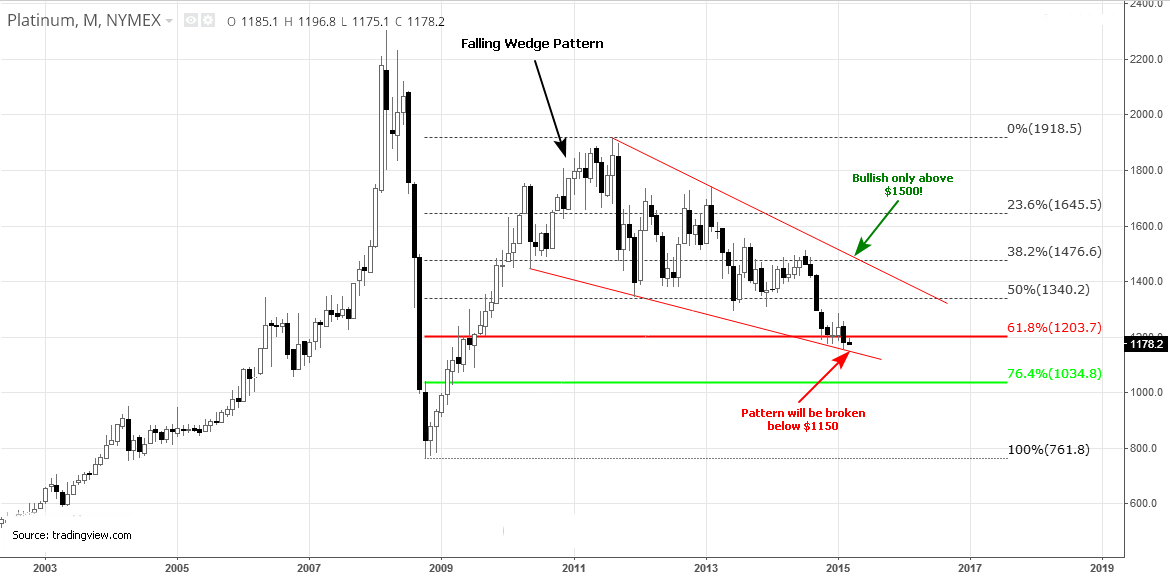 As seen on the above monthly chart, Platinum spent a pretty quiet season inside of a narrow $100 range, sitting on the 61.8% Fibonacci level around $1200, trading with a discount to Gold. February closed lower at $1185, with the monthly low at $1155 and touched the falling wedge pattern's support. Price couldn't accumulate enough momentum to fulfill the pattern so far. The pattern is bullish and to bring the bullish track the white metal would need to overcome the wedge's resistance at $1500 and two Fibonacci levels at $1203 and $1340 on the way to it, difficult but still a possible task.
I don't rule out that with such an unconvincing performance, the bears would try at another chance to break below the wedge's support at $1150. That will negate the model and the price could quickly reach the last Fibonacci support at the $1034 level. I don't want to be too cruel and imagine what would be next after that.
Trading is not looking good these days for Platinum, aggressive traders could try to buy dips to the wedge's support at $1150 with very tight stops below. Conservative target will be at $1200.
Patient traders will wait to see if support stays alive to react immediately if it can't.
Palladium Finally Broke Up!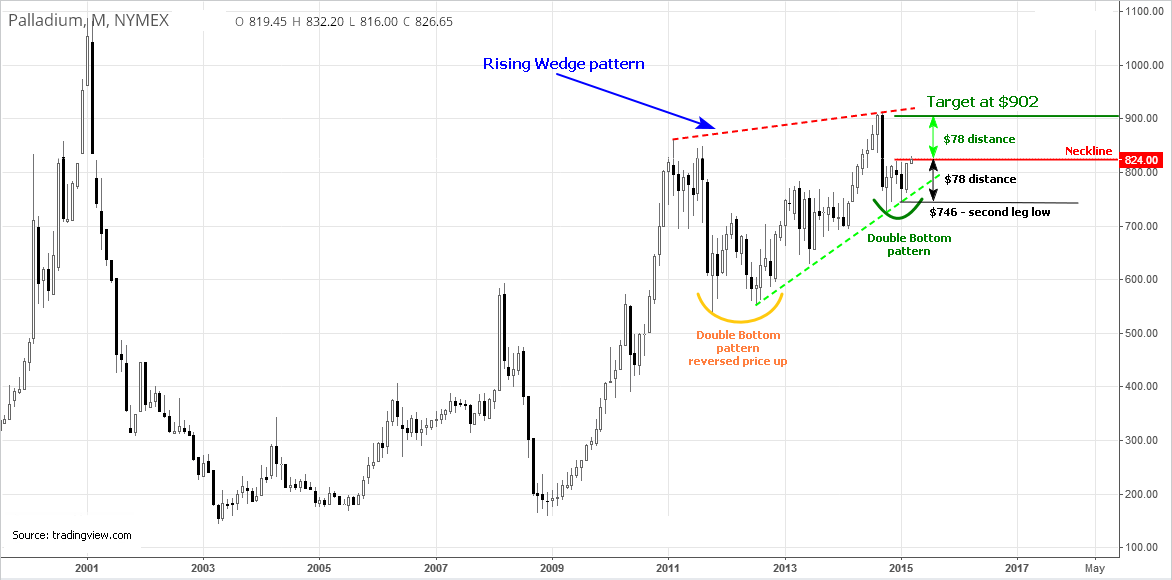 Palladium did its job very well bringing investors more than 6% in February and closing the month at the maximum which is a bullish sign. The above monthly chart shows us that the whitest metal is in the rising wedge pattern. Usually in this pattern, price touches the upside and then reverses the uptrend down, which could happen, but not likely in the coming month as Palladium sculpted a very clear double bottom candle pattern which can reverse the market up to forgotten highs. Bulls just broke up the neckline (highlighted in red) at the $824 level and both Monday and Tuesday closed above it. That's a good confirmation for conservative positioning. The target for the double bottom is calculated as the distance between the second leg's low and the neckline ($78, highlighted in black double arrow), added to the neckline level at $824, resulting in $902. Now it's time to buy Palladium with a target at $902, it's about $75 - what a nice profit! Put your stop below $800. Risk/reward ratio is about 1:3.
Palladium Weighs On Platinum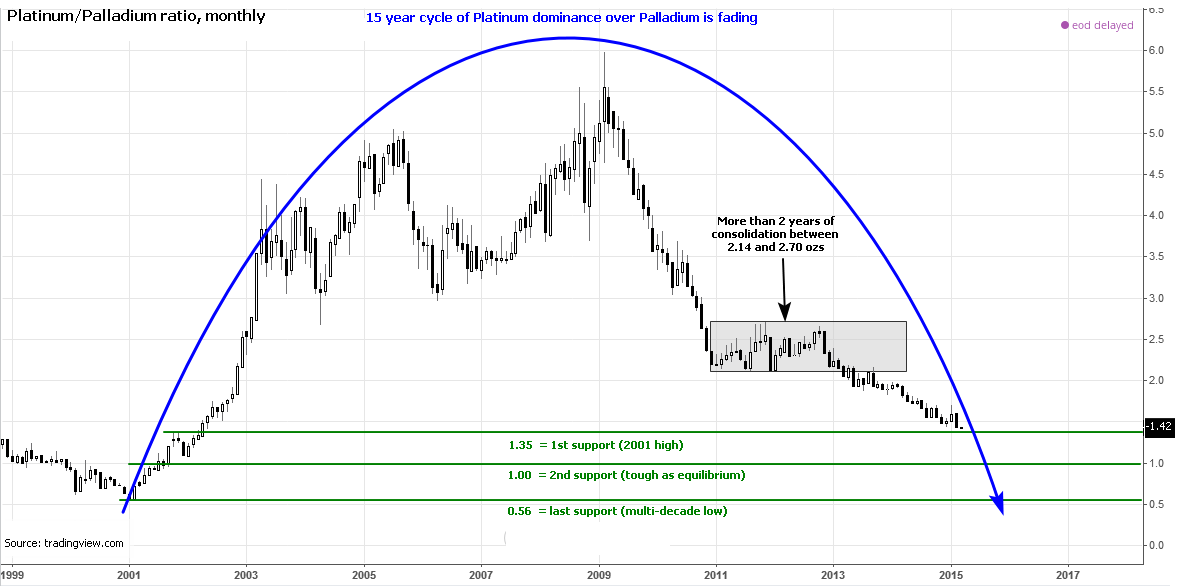 As seen on the above monthly chart of the Platinum/Palladium ratio, in 2009, few could expect Palladium's price would ever reach so close Platinum's, when Palladium was almost 6 fold cheaper. Similarly, but on the opposite side, it wasn't expected in 2001 when Palladium outweighed Platinum and it was just the start of Platinum's rise. Almost 15 years Platinum dominated in price over Palladium, and this cycle as seen on the chart is fading. Platinum reached its zenith in 2009 when the ratio topped around the 6 level and then crashed to the current 1.42 oz area. Consolidation stop was done only in 2011-2013, where the price fluctuated between 2.14 and 2.70 oz levels. Nearest support now is not so strong and located at 2001 high area at 1.35 ozs. Next is only at equilibrium as it's a psychologically important round number, I think this support can hold the price for a longer time, consolidating the market.
This ratio picture tells us that we can see, as told above in the post, higher Palladium prices amid lower Platinum value.
What can be behind that? Oil's huge price drop made large gasoline cars more attractive (for example, Ford F-150 series' recent sale hit) increasing demand for Palladium as a primary catalyst. The World Health organization found that diesel cars emit less carbon, but higher levels of other pollutants such as nitrogen oxides which have been linked to asthma, cancer, lung disease and respiratory illnesses. That means European diesel car production plans could fall along with Platinum, which is mainly used as diesel engine catalyst. Palladium is expected to be in higher demand as a preferred cheaper substitute of Platinum catalysts with developing countries eating up auto production share from USA and Japan.
Lucky and Intelligent Trades!
Aibek Burabayev
INO.com Contributor, Metals
Disclosure: This contributor has no positions in any stocks mentioned in this article. This article is the opinion of the contributor themselves. The above is a matter of opinion provided for general information purposes only and is not intended as investment advice. This contributor is not receiving compensation (other than from INO.com) for their opinion.