Since my last update, the dollar advanced further to the upside establishing the new multi-year top of $105 in the middle of May. Later, the market started the correction as the dollar index (DX) drifted into the area of $101.
Last time, you bet the most on the further rise of the dollar to $121 (Neckline of Giant Double Bottom pattern). The second choice was the Bearish scenario for the main currency. It is early to judge the results as the price dynamics are somewhat mixed.
Let me show you one comparison graph that shows the underlying fundamentals of the dollar index. But, before that, to refresh the memory, firstly, I put below the chart showing the composition of the dollar index.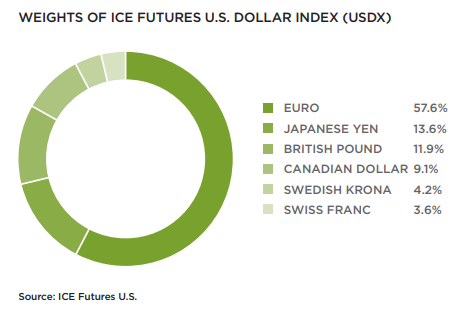 The euro takes the largest piece of cake with 57.6%; the Japanese yen with 13.6% is the second largest component, although the gap with the euro is huge. The third is the British pound, as its part weighs 11.9%. Continue reading "Dollar Index: The Last Shall Be First" →