Today I prepared Platinum macro data charts to show industry development for the last decade.
Supply And Demand

Chart: Aibek Burabayev; Data Source: Johnson Matthey, LBMA
In 2004 at the beginning of the review period, supply and demand were ideally balanced at the 7.2 million ounces (Moz) mark at $861/oz price. A year later, both Platinum supply and demand showed decent growth, 2005 outweighed 2004 for 0.7 Moz on the supply side and 0.8 Moz in demand; the price had a modest gain of one hundred dollars.
In 2007, like almost everything else in the markets, the growth hit new highs in supply and demand. It is interesting that the main supply driver wasn't a traditional mining expansion, but a recycling boom, which soared for more than 2 folds from 0.7 to 1.6 Moz amid doubling the metal price that supported the recycling economy. $1529/oz hit the chart and the buyers were not scared; demand was backed mainly by the prospering automobile industry, which added a significant 0.7 Moz to demand, and to a lesser degree by petrochemical and glass industries. And then it thundered, in 2008 in the wake of Great Recession both indicators started cooling down moderately and so did the price.
Although supply and demand bottomed in 2009, the last one lost a huge 20% from its peak in 2007, and again the main source of the pain was the automobile industry, which was heavily depressed and hence catalyst demand dropped almost half from 4.2 to 2.2 Moz. It is worth it to note that Platinum's price hasn't crashed following supply and demand and has even managed to reach pre-critical levels.
2013 was the revival's peak year, demand won back all of 2009's losses and hit a decade high at 8.7 Moz despite the higher metal price. Last year, the net deficit made an 11-year record at -1.1 Moz, as supply couldn't catch up with the powerful demand, as mining supply crashed on South African strikes and closing mines. It was predicted in 2013 that supply would recover in 2014, but it has appeared to be even worse.
For the last 3 years, Platinum has been behaving irrationally as it has fallen with struggling supply and hasn't caught up with the growing demand. Investors haven't been fooled by short-term supply shortages as strikes tend to cease sooner or later and then supply will flood the market already shared with booming recycling supply. That is the reason for the lower price expectation.
Two Pillars Versus A Fresh Idea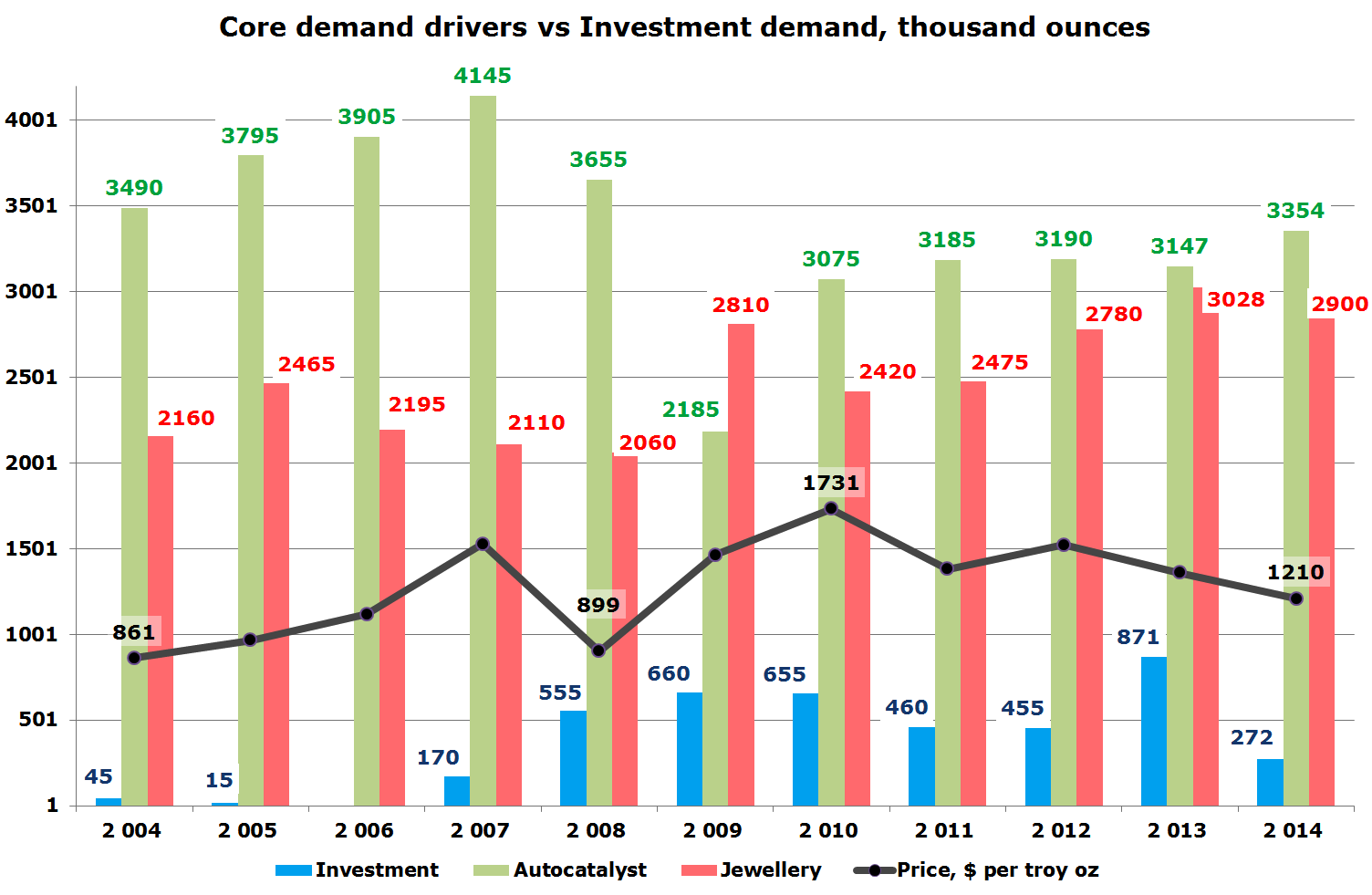 Chart: Aibek Burabayev; Data Source: Johnson Matthey, LBMA
It's clearly seen in the diagram above that the auto catalyst industry, the main demand driver is pro-cyclical and behaves the same way as does the economy. The blossoming years were up to 2007, and then we saw a huge drop amid the meltdown and then catalyst demand showed moderate expansion, but we are still seeing a lack of momentum to get to the prosperous year's level.
Jewelry, on the contrary, had its best one-year rise in the worst year of the recession in 2009. Demand gained a fantastic 36% compared to 2008, amazing as the metal's price was high and growing. People still value hard precious assets like gold, silver and Platinum over fiat money. Someone called it "herd behavior", but we can only judge in 10-20 years after their children have grown up and sell those metals for college tuition or maybe, buy even more. Jewelry demand in 2013 hit both the decade record at 3.03 Moz and almost touched the auto catalyst demand.
Investment demand is a relatively fresh idea in the Platinum market. It can't reach even half of the main demand and moreover it is not as stable as any of the other demand drivers so it can't be a price maker even though it tends to follow the price. With the doubling Platinum price, the investment demand had built the uptrend with geometrical progression: from 2008 to 2010, during the recession height, demand soared 15 times compared to 2004.
In 2013 when jewelry demand had hit a new record, investment demand also had shown a new 10-year maximum at 0.9 Moz as the price fell from the peak. I think it was based on an expectation that the price would drop from $1523/oz to $1358/oz and has been just a retracement before new maximum. Hopes evaporated last year when the price fell for another $150/oz and demand dropped three times to 0.3 Moz level. And we can't rule out that it's another attempt by market makers to predict the market while investors wait for new lows to enter the market.
Intelligent trades!
Aibek Burabayev
INO.com Contributor, Metals
Disclosure: This contributor has no positions in any stocks mentioned in this article. This article is the opinion of the contributor themselves. The above is a matter of opinion provided for general information purposes only and is not intended as investment advice. This contributor is not receiving compensation (other than from INO.com) for their opinion.