Back in July, Platinum closed just below the important round number level of $1000 I outlined in my post titled "Platinum Could Hit The Floor". In that post, I clearly pointed out that the metal is in big trouble. And that was almost two months ahead of the Volkswagen scandal that dropped the bomb on the future of the diesel car industry and its subordinate autocatalyst sphere with its large demand for Platinum.
It's ironic that a two-lettered emission gas (NO, nitrogen oxide) knocked out a two-lettered company (VW, Volkswagen), that can be written in the following equation: VW+NO=K.O.
The US auto market could hardly be impacted by this scandal as the diesel market represents around 1% of all new car sales and furthermore European cars aren't big sellers in America. That is why I put the comparison diagram of the Platinum price and the EU car registrations, where diesel cars really sell.
Chart 1 Platinum Vs. Eu Car Registrations: Investors Doomed The Metal Long Before The Dieselgate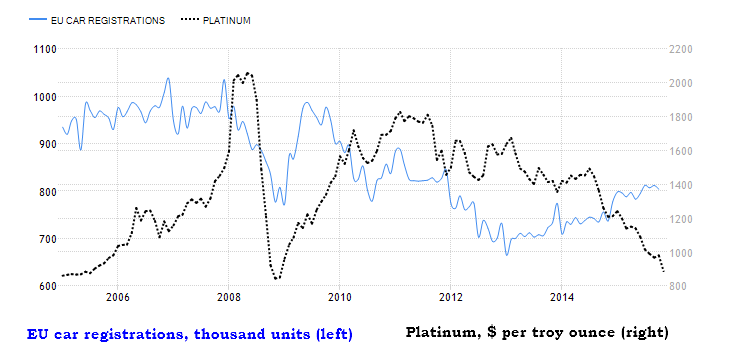 Chart courtesy of tradingeconomics.com
Car registrations in the Euro area fell from 812,000 in September to 804,000 in October; That's below the 25-year average of 883,000. It looks like "dieselgate" interrupted the multi-year uptrend in car registrations and more weakness is yet to come.
Both indicators were in a direct relationship from 2008 when the Great Recession started. Usually, the Platinum price follows the registrations trend with a time gap. This year they diverged as the ECB Stimulus Package (QE) saved car sales growth, but not the demand for the metal which dropped long before VW news. The emissions problem just sped up the market downfall.
This diagram clearly shows two things:
1) It's not about the cars themselves, but about the negative investor sentiment that hammers the metal price.
2) Pre-crisis levels are escaping dreams for both Platinum and car manufacturers.
The cheating has been going for at least 6 years, but why it has leaked only this year? Lenin said, "You look for the one who benefits from it". The United Nations Climate Change (UNFCCC) chief said she is "delighted" by the Volkswagen emissions cheating scandal because the company will now hasten manufacturing of electric and hybrid cars, speeding a global shift away from fossil fuels. Volkswagen officials said the company will cut investment plans at its biggest division and step up development of electric vehicles, period.
Chart 2 Electric Vehicles Market Share: Global Auto Leaders Are Green Losers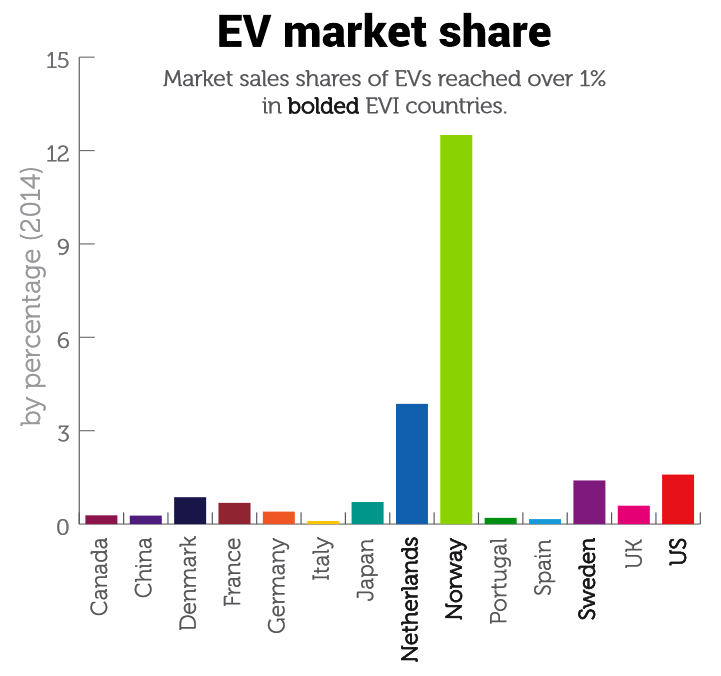 Image courtesy of International Energy Agency
Electric Vehicles Initiative (EVI) countries spent $16 billion USD between 2008-2014 to reach nothing as you can see on the chart above. Volkswagen itself is likely to pay up to $18 billion USD alone to fix the scandal, and it will take another 6 years of spending for another invisible progress of electric vehicles market share. I didn't take into account small markets like Norway or Sweden as it will not help to save the world.
Indeed, the planet is heating up quicker than expected and with more ice in the water (last was in August when a Manhattan-sized Greenland glacier fell into the Arctic ocean) it can flood a lot of countries. Therefore ever more stringent mileage and emission standards are yet to come, adding to the value of fossil fuel cars as more money will need to be spent on technology and hardware development to meet it the stricter standards.
Half of Europe's cars have diesel engines, and its manufacturers spent time and money to get such a share and it is natural that they would lobby their interests to protect it.
What we had before this scandal: top automaker protected by lobbyist and were addicted to "clean" diesel that is unwilling to make the much needed affordable e-cars in mass. The chess game is simple: discredit the idea of "clean" diesel, put in the new "green" idea, bless with forgiveness and viola, now you have a top player to win your game. The UNFCCC chairwoman herself expressed that Tesla is not making an affordable "people's" vehicle (translation from German of "Volkswagen").
No doubt, the world is changing. The 19th century was agricultural, the 20th century was industrial, and this age will be electronic, communicative and green. The revolution is coming, and obsolete technologies will be replaced.
It's interesting to note that the significant world conflicts are the common background for changes: Russo-Turkish war (hope we will avoid it this time) and Napoleonic wars in the 19th century, World War I in the 20th century. And you surely know what is happening these days in the world but, fortunately, it is all comparatively less bloody and exists in the form of trade/sanctions wars and, of course, currency wars. I hope we will see only victims in the form of an idea, commodity or technology on the way to the progress of humanity.
Intelligent trades!
Aibek Burabayev
INO.com Contributor, Metals
Disclosure: This contributor has no positions in any stocks mentioned in this article. This article is the opinion of the contributor themselves. The above is a matter of opinion provided for general information purposes only and is not intended as investment advice. This contributor is not receiving compensation (other than from INO.com) for their opinion.