It has been a great week with some strong trades happening. One of those stocks has to be LinkedIn Corporation (NYSE:LNKD), the professional social media site that recently updated its website with a redesign. After the bell yesterday, LinkedIn announced its earnings and future outlook. Upon seeing the numbers, investors bolted to the escape doors as LinkedIn clearly missed its target and future outlook.
Did this come as a big surprise to us at MarketClub? The answer, in all honesty, is no as all of the Trade Triangles were negative indicating a lower trend for LinkedIn.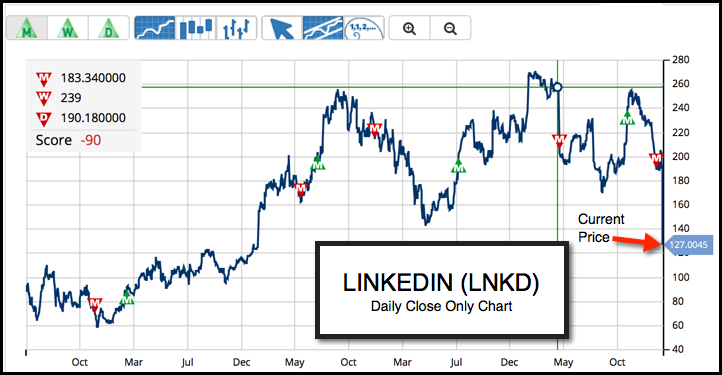 It is hard to ignore the power of the Trade Triangles during earnings season.
This week Apple Inc. (NASDAQ:AAPL) was a winner, as was Yahoo! Inc (NASDAQ:YHOO). The Trade Triangles avoided getting sucked into Amazon.com Inc. (NASDAQ:AMZN) and they nailed Alphabet Inc. (NASDAQ:GOOG) which had a blowout quarter.
The next target is Yelp Inc. (NYSE:YELP). Yelp announces its earnings after the close of business on Monday for Q4. Based on the trend and the Trade Triangles (all negative), there is a strong possibility that Yelp is going to miss its targets in both earnings and future outlook.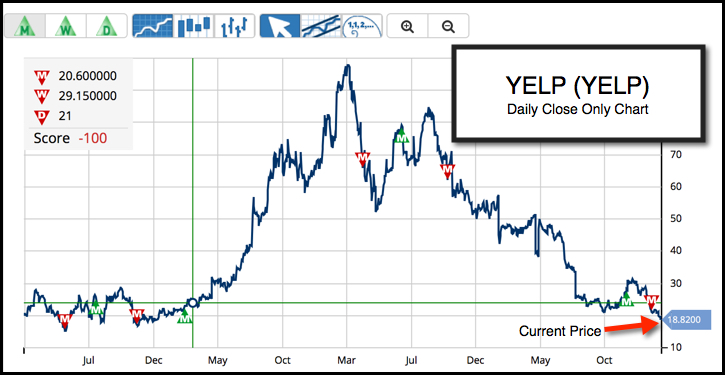 A close in Yelp today below $19.50 will be the lowest daily close in 3 years for this stock and would be a strong indication that the insiders are expecting disappointing earnings. It also fits in nicely with the "52-Week New Lows on Friday" strategy. If you're not familiar with this strategy, here are the rules again.
Here are the three rules you need to trade the "52-week New Lows on Friday" strategy.
Rule #1: On a new 52-week low when the market closes at or close to its low on a Friday, short and go home short for the weekend.
Rule #2: Exit short position on the opening the following Tuesday.
Rule #3: If the market opens sharply higher on Monday, exit this position immediately.
Stay focused and disciplined.
Every success with MarketClub,
Adam Hewison
President, INO.com
Co-Creator, MarketClub