Hello MarketClub members everywhere. I have to say that I have an uneasy feeling about the markets today. As you know, for some time I have been neutral to negative on the major indices based on the monthly Trade Triangles. As I pointed out yesterday, the first cracks in the armor came when the indices fell below their PSAR levels. The only exception was the NASDAQ, whose PSAR comes in today at 4734.77. Should the NASDAQ (NASDAQ:COMP) trade below that level today, it would indicate that all indices are now vulnerable to a fairly sharp selloff.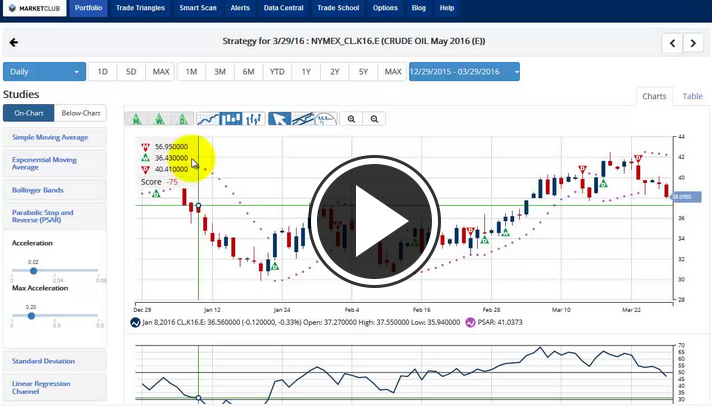 Indices: I will be looking at all the major indices and indicating where they could potentially slip to in the weeks ahead. Also, Janet Yellen, head of the Federal Reserve, will be talking about the economy today. I have been a vocal critic of the Fed's policy for some time and believe the Fed is in over its head and doesn't quite know how to resolve the current continued weakness in the US economy.
Crude Oil (NYMEX:CL.K16.E) took a bit of a tumble today. It's down over one dollar and continues to look vulnerable to further weakness. Besides being below its PSAR level, it is also below the 50 line on the RSI indicating another sign of problems for this market. One level I'm watching closely today is the $37.71 level. Should that level be broken, it would turn all of the Trade Triangles negative, indicating a move down to the $35.50 range basis the May contract.
Gold (FOREX:XAUUSDO) is showing some positive upside action today, but not enough to reverse the trend back to the upside. At the moment, gold has a couple of negatives that are clouding any near-term recovery. The first negative is the fact that gold is below its PSAR level. The second negative is that it is trading below the RSI line and lastly, the weekly Trade Triangle is red indicating that the trend in the near-term is sideways to lower as the daily Trade Triangle is green indicating a trading range. I believe that gold is still in a broad trading range which I expect will continue in the near-term.
Stay focused and disciplined.
Every success with MarketClub,
Adam Hewison
President, INO.com
Co-Creator, MarketClub