Hello everyone, Adam Hewison here coming to you from the digital studios of MarketClub. Yesterday, the Barrick Gold Corporation (NYSE:ABX) had a major trend change to the upside signaled by a new green monthly Trade Triangle. It's the first buy signal ABX has had since it began its move on January 7, 2016. At that time the signal was it $8.33 and the market moved as high as $23 before pulling back.
Today I have put together five different charts that show why I believe Barrick Gold is headed significantly higher.
About This Stock
Barrick Gold Corporation (NYSE:ABX) engages in the exploration and development of gold and copper properties in the United States, Canada, Australia, Argentina, Chile, Peru, the Dominican Republic, Papua New Guinea, Tanzania, Zambia, and Saudi Arabia. It primarily explores for gold, copper, and nickel deposits. The company's main properties include Cortez, Goldstrike, Pueblo Viejo, Lagunas Norte, and Veladero. As of the end of 2015, ABX had proven and probable gold reserves of 91.9 million ounces; and 11.7 proven and probable copper reserves of billion pounds. Barrick Gold Corporation was founded in 1983 and is headquartered in Toronto, Canada.
Chart #1
In chart number one can see that Barrick Gold broke over a 52-month long-term negative force line (1) and moved as high as $23 a share (2) before pulling back 50% (3).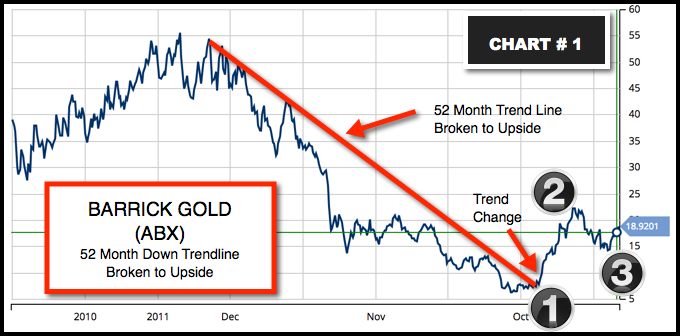 Continue reading "Why It's Time To Buy Barrick Gold Corporation (NYSE:ABX)" →