Hello MarketClub members everywhere, it's the last day of trading for the week and it has been quite a week.
Yesterday, Janet Yellen, the head of the Federal Reserve Board, came out late in the day and said that things were getting stronger economically and that the job picture was improving. It was a rare appearance by Ms. Yellen as normally the head of the Federal Reserve does not come out to make any statements, except official ones. That one statement alone was enough to evaporate most of yesterday's losses in overnight trading. It is all about free money folks and the Federal Reserve has no more rabbits to pull out of its hat.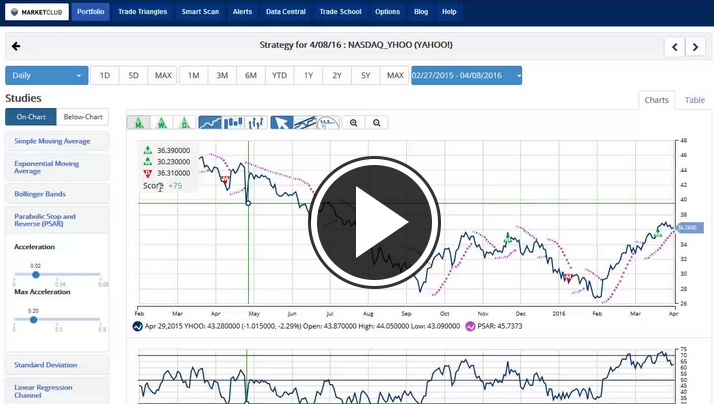 Verizon Communications Inc. (NYSE:VZ) indicated that it plans to make a bid for Yahoo! Inc. (NASDAQ:YHOO). I find it interesting that the Trade Triangles picked up that something that was going on with Yahoo on March 29th, 10 days before the Verizon news came out. This is one of the big secrets in the market, someone (and insider) always knows what's going on. Because of this inside knowledge, they see an opportunity to make money and they buy either options or shares in that company, in this case, Yahoo. That translates into market movement and plays into the algorithm used for the Trade Triangle technology. Yahoo is up this morning in early trading and I believe that this stock can move higher from current levels.
It seems as though 100 point swings in the Dow have become the norm at least for the moment. However, as you know, I tend to look at the bigger picture and what's going on. I do that by looking at how the markets are closing compared to last Friday's closing.
S&P 500 (CME:SP500): Closed last Friday at 2072.78. RSI Positive. PSAR Negative.
DOW (INDEX:DJI): Closed last Friday at 17,792.75. RSI Positive. PSAR Negative.
NASDAQ (NASDAQ:COMP): Closed last Friday at 4,913.01. RSI Positive. PSAR Negative.
As you can see, there is a slight conflict between the PSAR, which is now negative and the RSI indicator which is positive. I believe that this conflict is one of the reasons why the markets are witnessing such choppy trading conditions.
Gold (FOREX:XAUUSDO): Gold closed last Friday at 1,221.80. RSI Positive. PSAR Positive.
As I reported a few days ago, gold is beginning to build a base and is setting itself up to move higher later this year. We are going to wait for the weekly Trade Triangle to kick in and turn green before going all in on the long side of this market.
Crude Oil (NYMEX:CL.K16.E): Crude Oil closed last Friday at 36.77. RSI Positive. PSAR Positive.
This market is beginning to get pretty choppy as the battle between the bulls and the bears continues. At the moment our Trade Triangles are mixed, indicating a trading range with resistance coming in starting at $40.00 and extends up to $42.00.
Stay focused and disciplined.
Every success with MarketClub,
Adam Hewison
President, INO.com
Co-Creator, MarketClub