Hello MarketClub members everywhere. It's Friday and the big winner for the week is Crude Oil which is up 8.34% for the week and in turn my recommendation to buy Kinder Morgan Inc. (NYSE:KMI).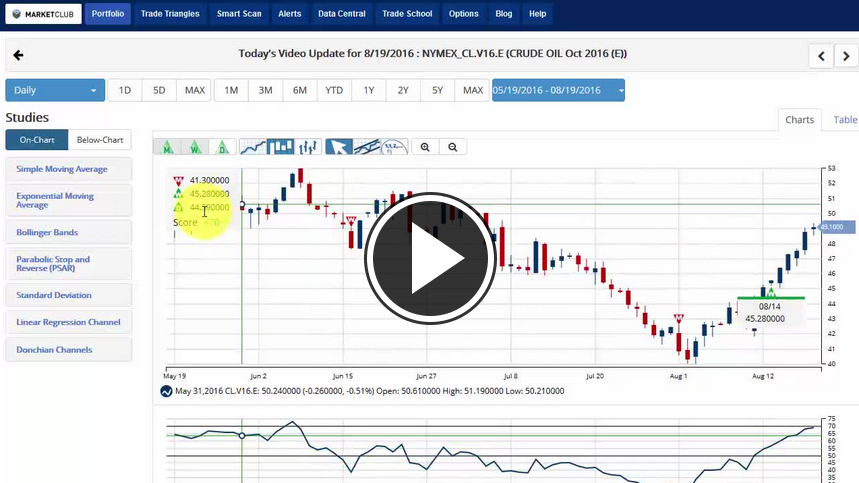 Looking at the major indices here are the changes so far this week (Thursday Closes):
S&P 500 (CME:SP500): +0.14%
Dow (INDEX:DJI): +0.11%
NASDAQ (NASDAQ:COMP): +0.25%
Gold (FOREX:XAUUSDO): +0.71%
Crude Oil (NYMEX:CL.U16.E): +8.34%
I will be examining each of the markets listed above and time permitting I will be looking at some stocks that are making 52 week high.
Here is a weekend trading alert, go to the Smart Scan tab then select "52wk High". Filtered out by choosing Ave Daily Volume, then choose greater than 2 million. After you have done that choose a price point that you like, for example, you may want to buy stocks that are $20 as opposed to $100. After you have done that follow these rules.
Here are the three rules you need to trade "The 52-week New Lows on Friday Rule."
Rule #1: On a new 52-week low when the market closes at or close to its low on a Friday, short and go home short for the weekend.
Rule #2: Exit short position on the opening the following Tuesday.
Rule #3: if the market opens sharply higher on Monday exit this position immediately.
There you have it. These are the only three rules that you need to trade "The 52-week New Lows on Friday rule" successfully.
The "The 52-week new highs on Friday Rule" works extremely well in futures and in Forex.
Money Management Alert: please remember that markets can change quite dramatically especially in the waning days of summer when the markets are quite thinly traded. Always have areas in your mind that if the market penetrates those levels, you will exit your position. This is called discipline and money management and over the long term it will save you and make you money.
Stay focused and disciplined.
Every success with MarketClub,
Adam Hewison
President, INO.com
Co-Creator, MarketClub