Introduction and Backdrop
As of recent, the iShares Nasdaq Biotechnology ETF (NASDAQ:IBB) has caught an upward trend and briefly crossed the $300 per share threshold for the first time over the past 9 months. The political backdrop has been very contentious and even more so after two of the three presidential debates have wrapped up. I've written several pieces evaluating the massive sell-offs in the biotech sector and how extraneous events such as oil, China, interest rates and to a large extent political threats are merely noise in the larger picture. These external events provide great buying opportunities in high-quality companies or the cohort itself as represented by the sector ETF, IBB as a proxy. There's no doubt that there's at least a loose correlation if not a direct correlation between opportunistic political posturing by political front-runners (i.e. Hilary Clinton and Bernie Sanders) and the chronic price suppression of IBB. Each time a tweet is pushed out to social media regarding drug pricing and/or specific attacks on pharmaceutical companies, the entire cohort takes a significant hit as reflected in the price action of IBB. I contend that political posturing played a major role in the sell-off of the healthcare cohort and more specifically biotech stocks. Drug pricing was used as a centerpiece and scapegoat for political gains. Throughout this political process, this rhetoric has negatively impacted the sector. IBB fell from $400 in July of 2015 to $240 in February of 2016 or alternatively a 40% hit. This sell-off coincided with political rhetoric aimed at the collective cohort of healthcare and biotech companies. I strongly felt that these events are seasonal and will eventually subside without any significant impact to the underlying stocks within IBB. I felt this politically induced sell-off presented a great buying opportunity after the 40% decline. Based on this thesis, I purchased two tranches of IBB at a strike price of $250 in February and June during the market-wide sell-off and the Brexit, respectively. I feel that this is a great entry point for any long-term investor that desires exposure to the biotechnology sector.
Enter Mylan
Publically, Mylan has been a complete disaster. The company has been a poster child for what not to do about aggressive price increases of drugs. The federal government subpoenaed Mylan's CEO in regards its business practices in relation to its EpiPen which uses an auto-injection of epinephrine to treat severe allergic reactions. As a result, Mylan gave in to the public and governmental scrutiny regarding its EpiPen pricing with implementing plans to offer a generic version and a $465 million settlement with the U.S. Department of Justice to appease the public and improve its company image. The relentless congressional grilling on Capitol Hill and public backlash against Mylan and its CEO have had a negative impact on the entire sector. Furthermore, the company has been accused of misclassifying the EpiPen to maliciously extract more money from the Medicaid Drug Rebate Program. Congressional leaders have vowed to recoup the difference that the program has spent over the past five years on EpiPens which was reported to be $960 million. To this end, Mylan just settled a $465 million lawsuit regarding this egregious misclassification under the Medicaid Drug Rebate Program. This negative publicity along with continuous political attacks has been a major headwind impacting biotech stocks. This widely broadcasted and contentious battle with government officials and the general public doesn't bode well for the entire healthcare cohort. With one more presidential debate pending and political posturing still occurring, this will likely continue to be a source of volatility until a more definitive political future is set.
IBB's Upward Trend and M&A Activity
Year-to-date, IBB has performed terribly, to say the least, posting a ~21% decline. However, a floor has been tested and established for this collective cohort. IBB hit the ~$240s three times thus far this year without ever breaking down through the $240 level (Feb, March, and June). This ETF has also been testing the $300 threshold twice this year after coming off these lows (August and September). The $300 level is a significant threshold and one that hasn't been breached for over nine months until September (Figure 1).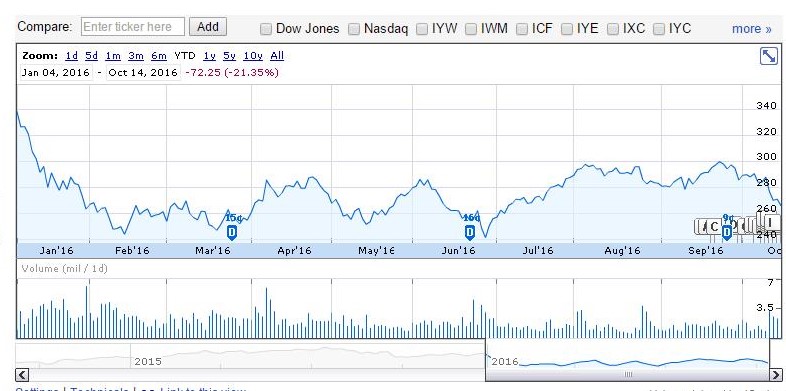 Figure 1 – Google Finance graph displaying YTD performance of IBB
Merger and acquisition activity within the biotech space has heated up recently and typically ignites the entire sector as M&A furor translates through the cohort. Pfizer's acquisition of Medivation for $14 billion and Allergan's acquisition of Tobira for $1.7 billion set off this uptrend in IBB. The entire healthcare cohort and more specifically biotech stocks have experienced major sell-offs from late 2015. As the cohort remains suppressed, many prospective buyout candidates become more financially compelling to the acquirer due to beaten down valuations in concert with the maturity of pipelines coming into play. As this acquisition activity heats up, be on the lookout for stocks that have been rumored as takeover targets to heat up and possibly taking the IBB along for the ride. IBB appears to be testing new highs and establishing new higher lows as the political backdrop matures and M&A activity heats up.
Takeaway
IBB has been testing the $300 threshold recently and establishing new higher lows as the future of the political climate becomes more certain, and M&A activity heats up. IBB is anchored by profitable large and mid-cap biotech companies that comprise over 55% of the ETF by weight. These companies are well-established market leaders and considering the fundamentals have not changed, I view this as a buying opportunity in the face of this politically induced sell-off. Buying opportunities in the form of individual stocks may present themselves throughout the sector due to the extraneous political rhetoric regarding the drug pricing debate and the entire drug supply chain dynamics. As candidates threaten drug companies with containing the costs of drugs, these actions will continue to negatively impact healthcare and biotech stocks in particular. As the political cycle winds down many of these headwinds will likely be removed and will allow the healthcare cohort to move higher as seen in the price action of IBB over the past month as the political climate matures.
Noah Kiedrowski
INO.com Contributor - Biotech
Disclosure: The author currently holds shares of IBB and the author is long IBB. The author has no business relationship with any companies mentioned in this article. He is not a professional financial advisor or tax professional. This article reflects his own opinions. This article is not intended to be a recommendation to buy or sell any stock or ETF mentioned. Kiedrowski is an individual investor who analyzes investment strategies and disseminates analyses. Kiedrowski encourages all investors to conduct their own research and due diligence prior to investing. Please feel free to comment and provide feedback, the author values all responses.