The Energy Information Administration (EIA) reported that December U.S. crude production averaged 9.949 million barrels per day (mmbd) in December, off 108,000 b/d from November. The primary cause of the decline was unexpected seasonal factors, which caused production in the Gulf of Mexico (GOM) to drop by 131,000 b/d and output in North Dakota to dip by 15,000 b/d. The EIA had expected a 30,000 b/d dip in GOM production. Meanwhile, production in Texas and New Mexico reached new historically-high levels of 3.933 mmbd and 556,000 b/d, rising 36,000 b/d and 26,000 b/d, respectively.
It is worth noting that EIA also revised its November estimate up by 19,000 b/d to 10.057 mmbd. As a result, November 2017 broke the November 1970 production record of 10.044 mmbd.
Even with December's seasonal drop, the EIA-914 Petroleum Supply Monthly (PSM) figure was still 193,000 b/d higher than the week data reported by EIA in the Weekly Petroleum Supply Report (WPSR), averaged for the month, of 9.756 mmbd. EIA's model failed to forecast the surge in production which began in August and totaled 846,000 b/d through November.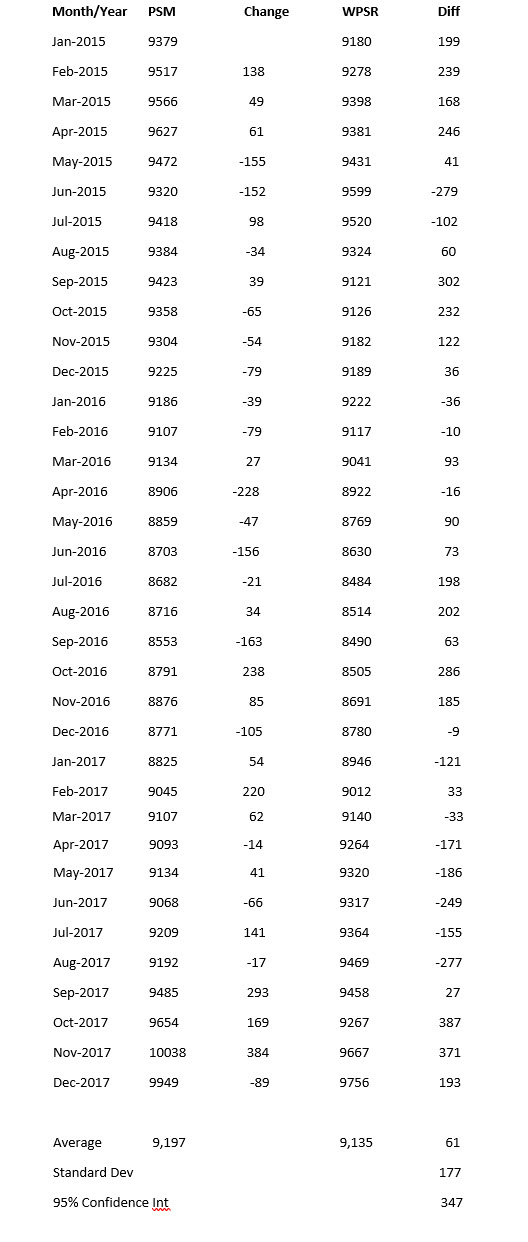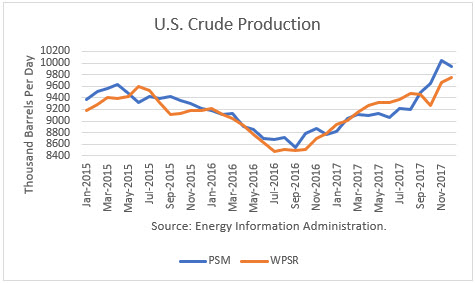 Production in December was 1.178 mmbd higher than December 2016. About 78 percent of the gain occurred in Texas and New Mexico.
Looking ahead, the EIA is projecting December 2018 output to rise to 11.13 mmbd, up 1.181 mmbd from December 2017, roughly the same as 2017. However, WTI crude averaged $50.88 for 2017. Thus far in 2018, crude prices are substantially higher, creating an incentive for faster growth.
The drilling count at the end of 2017 was 42 percent higher than at end 2016. On average, 4.3 rigs were added per week. Thus far in 2018, 6.5 rigs have been added on average, a 52% increase over 2017.
In January, Saudi Energy Minister Khalid al-Falih told reporters, "We should not be scared" about shale oil ruining OPEC's plans in 2018. But the U.S. has added production almost identical to the level of OPEC's "cut" of 1.2 mmbd, which was from elevated levels. OPEC's actual production in 2017 was 32.44 mmbd, only 250,000 b/d lower than in 2016.
Conclusions
With prices well above $50, I expect production to surge even faster in 2018 than in 2017. I believe the 1.2 mmbd predicted by the EIA is somewhat conservative. As a result, production increases by non-OPEC countries, including the U.S., Canada, and Brazil, should be enough to outpace the growth in world demand.
The wildcard is Venezuela. January production is almost 400,000 b/d lower than a year ago. The question is whether they can stem the bleeding. An additional issue is whether the U.S. imposes new sanctions on Venezuela's oil sector. Secretary of State Rex Tillerson is reportedly weighing the options.
Check back to see my next post!
Best,
Robert Boslego
INO.com Contributor - Energies
Disclosure: This contributor does not own any stocks mentioned in this article. This article is the opinion of the contributor themselves. The above is a matter of opinion provided for general information purposes only and is not intended as investment advice. This contributor is not receiving compensation (other than from INO.com) for their opinion.