Introduction:
Hasbro Inc. (NASDAQ:HAS) released earnings that were rife with headwinds attributable to the bankruptcy of Toys"R"Us. Hasbro reported a year-over-year overall revenue decline of 16% and missed on EPS by $0.24. Hasbro cited the liquidation of Toys"R"Us and retail inventory overhang, primarily in Europe, as drags on revenue domestically and internationally. Revenue in North America fell 19% while international revenue fell 17% year-over-year during the quarter. Despite the negative headline numbers, the stock bounced to the upside after the earnings call commentary painted a positive long-term narrative while weathering the Toys"R"Us liquidation. The stock responded by moving from $79 to $87 or 10% to the upside post-earnings. Hasbro is navigating the challenging retail landscape and provided positive commentary on the conference call for future growth avenues. As the company realigns and efficiently manages the Toys"R"Us liquidation, this challenging backdrop will likely resolve to Hasbro's benefit as there are many current and future growth catalysts despite the supply chain disruption.
Hasbro has many current and future growth catalysts with major billion dollar movie franchises in the fray while riding the coattails of Black Panther into the home entertainment window which posted record-breaking numbers with $685 million domestically and $1.33 billion internationally at the box office. Combine this success with the upcoming Marvel and Star Wars movies including Avengers: Infinity War, Star Wars Han Solo and Ant-Man and The Wasp to highlight a few major films. Hasbro recently increased its dividend from $0.57 to $0.63 per share. Hasbro has excellent Q2-Q3 2018 catalysts, boasts a ~3% dividend yield, weathering the Toys"R"Us liquidation and putting forth initiatives within Hasbro Studios to further propel growth thus presenting a compelling long-term buy.
Jim Cramer - "The Worst Is Over" and Positive Analyst Sentiment
Per Susan Anderson, an analyst at B. Riley FBR, Hasbro is the toy company most likely to survive the post-Toys"R"Us era. Anderson stated, "They're well-positioned with their strategy" and has an outperform rating on the company. "They have six Marvel films out this year" and "They've done a great job merging entertainment and toys. I think they'll continue to take market share once the dust has settled on all of this."
Hasbro had announced in February that the Toys"R"Us situation would have a negative impact on the company during the first two quarters of 2018. Anderson stated that "Overall Business is pretty healthy for them despite Toys"R"Us" and that the liquidation is a good opportunity for Hasbro to pick up more brands especially with the Power Rangers toys coming into the fold.
Post earnings, Hasbro CEO Brian Goldner was interviewed by Jim Cramer on Mad Money, and he was confident that "the worst is over" for Hasbro as the Toys"R"Us liquidation unfolds.
Goldner stated that Hasbro doesn't "have perfect clarity" on what will happen with Toys"R"Us' non-U.S. business however the pain from its bankruptcy would not extend past the second quarter of the 2018 fiscal year.
"We held back some inventories across the entire retail channels in order to ensure our new initiatives weren't caught up in the liquidation, and then we'll begin to ship those as we move forward with great entertainment initiatives," Goldner said. "We have the Avengers movie, we have our Black Panther home entertainment window, we have the new Solo movie coming in May, so it's very exciting."
"I am certain that, a year from now, we will not be talking about Toys"R"Us in this negative light," Goldner added. He also emphasized Hasbro's commitment to return capital to shareholders via dividends and share buybacks. Hasbro recently increased its dividend from $0.57 to $0.63 or an increase of 10.5% per share (Figure 1).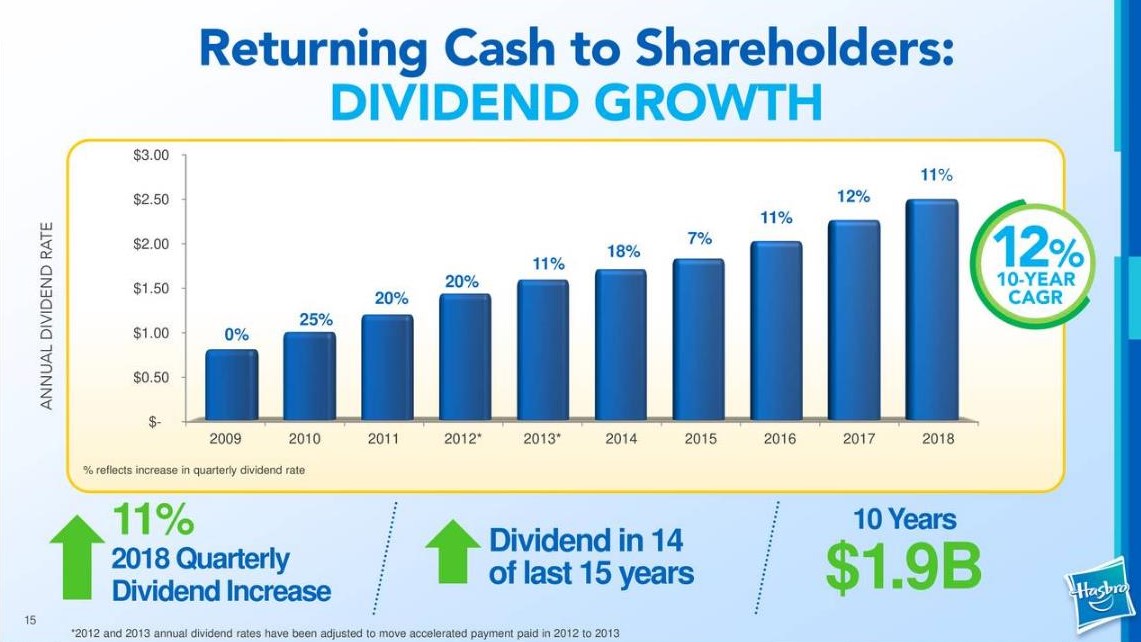 Major Catalysts Ahead – Marvel, Star Wars, Netflix and More
Hasbro is the exclusive toy developer for many of the multi-billion dollar movie franchises such as Marvel Universe, Star Wars, Disney Princesses, Frozen, Transformers, Jurassic World and recently added Power Rangers to the mix. The Hasbro-Disney exclusivity rights span Marvel Comics and Star Wars toys which last through 2020 and Hasbro is also the licensed doll maker for the Disney Princess line (Moana and Frozen are included). The Blank Panther movie crushed all expectations grossing $685 million domestically and $1.33 billion internationally at the box office. Hasbro is gearing up for the Blank Panther home entertainment window. Toys, collectibles, books, apparel and more will help drive Hasbro's results via digital and physical footprint channels. Coming down the pipeline is Avengers: Infinity War, Star Wars Han Solo spinoff and Ant-Man and The Wasp coming through the front half of 2018 which bodes well for Hasbro's relationship with Disney.
In addition to the Hasbro-Disney relationship, Hasbro and Netflix (NFLX) have an agreement to create toys and games based on the Super Monsters kids series. Hasbro will launch the line in fall 2018 under its Playskool brand in the U.S., with additional markets to follow in 2019. Hasbro and Netflix partnered last year on toys and games based on Stranger Things. Hasbro has also created a new animated series, Stretch Armstrong which premiered on Netflix earlier this year. Hasbro Studios will reimagine the classic Stretch Armstrong into a new teenage superhero animated series into a relatable kids adventure.
Hasbro Studios Becoming Significant:
Hasbro Studios has made a significant push into original content as of late. Hasbro released its first movie with My Little Pony: The Movie in 2017 and is projected to accelerate revenue in the digital and merchandise channels. This is Hasbro's first inroads into this realm, and more content will follow. Recently, Hasbro filed a debt securities shelf registration with an undisclosed offering to grow its future business. "As we seek to grow our business in entertainment, licensing and digital gaming, we will continue to evaluate strategic alliances, acquisitions and investments, like Hasbro Studios, Boulder Media, the Network and Backflip, which may allow us to build out our competencies around the brand blueprint, such as in storytelling and digital, complement our current product offerings, allow us entry into an area which is adjacent or complementary to our toy and game business." These Hasbro initiatives will ensure growth and diversification beyond their core toy business.
Conclusion:
Hasbro Inc. (NASDAQ:HAS) is turning the corner with regard to the Toys"R"Us liquidation and per Jim Carmer "the worst is over." Hasbro has many growth catalysts on the horizon via Marvel, Star Wars, boasts a ~3% dividend yield, weathering the Toys"R"Us liquidation and putting forth initiatives within Hasbro Studios to further propel growth. Hasbro presents a compelling buying opportunity at current levels. Despite the Toys"R"Us bankruptcy filing, Hasbro looks to be managing this liquidation and further penetrating into digital and footprint channels of distribution to mitigate this liquidation. Analysts are coming in with positive comments regarding the long-term outlook on Hasbro as the turn away from the retail overhang gains traction.
Noah Kiedrowski
INO.com Contributor - Biotech
Disclosure: The author holds shares of Hasbro and is long Hasbro. The author has no business relationship with any companies mentioned in this article. He is not a professional financial advisor or tax professional. This article reflects his own opinions. This article is not intended to be a recommendation to buy or sell any stock or ETF mentioned. Kiedrowski is an individual investor who analyzes investment strategies and disseminates analyses. Kiedrowski encourages all investors to conduct their own research and due diligence prior to investing. Please feel free to comment and provide feedback, the author values all responses. The author is the founder of stockoptionsdad.com a venue created to share investing ideas and strategies with an emphasis on options trading.