Analysis originally distributed on August 3, 2018 By: Michael Vodicka of Cannabis Stock Trades
Game-changing companies don't come along very often. But when they do, shareholders usually see big gains.
This pattern continues to repeat itself in the stock market.
Netflix (NFLX) is a recent example.
Back in 2007, Netflix introduced a game changer in the home entertainment industry, releasing a new service that enabled customers to stream movies from the internet into their homes.
That innovation led to ridiculous gains for Netflix shareholders that completely crushed the broader stock market.
In just the last six years, Netflix has surged from $7.50 per share to a recent high above $400. That 5,000% return means that a $10,000 investment in Netflix in 2012 would be worth about $500,000 today.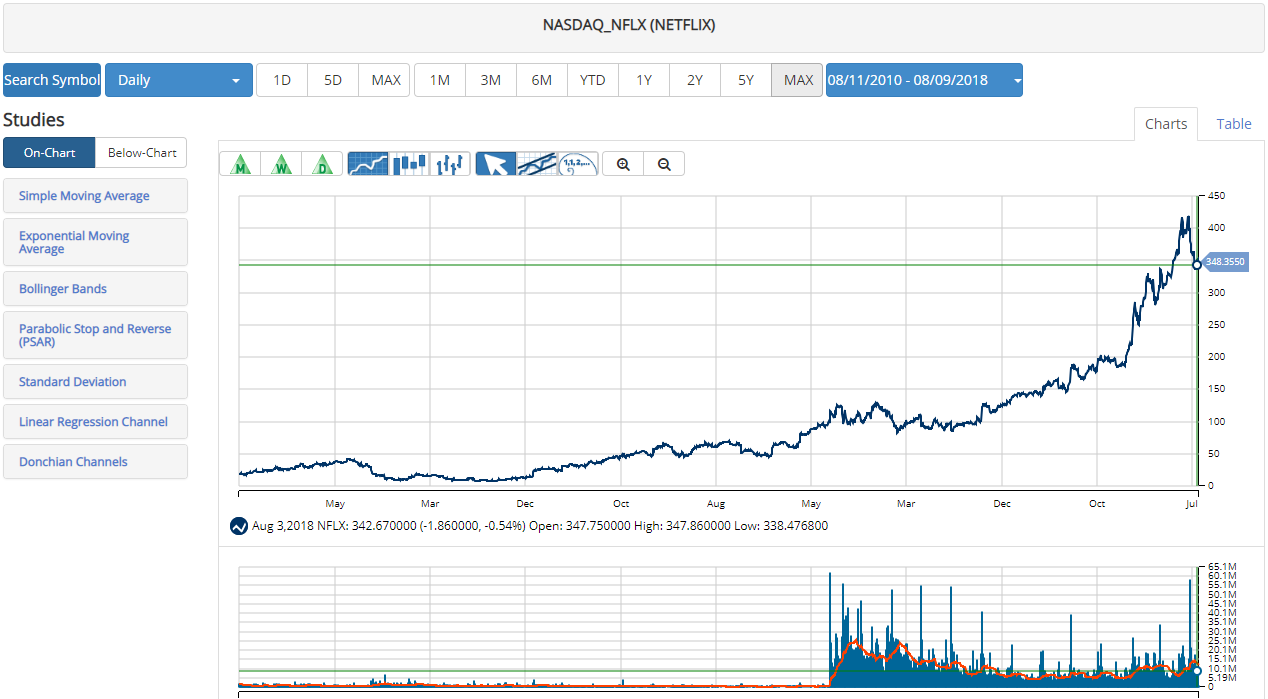 These game changers are rare and hard to find. True game-changing technology doesn't come around very often.
That's why I'm excited about a new cannabis stock that reminds me of Netflix in 2007.
Sproutly (CSE:SPR, OTC:SRUTF) is a promising young Canadian cannabis company ready to revolutionize the high-growth cannabis beverages industry.
Sproutly shares just began trading on the Canadian Stock Exchange (CSE) on July 9 after the company executed a reverse merger with Stone Ridge Exploration Corp back in February.
The new listing is off to a good start – I see an average daily trading volume of 186,000, so this ticker is plenty liquid for even bigger investors.
Sproutly is a smaller, more speculative cannabis company. Its market value of $85 million is a fraction of industry leader Canopy's (CGC) value of $5 billion.
Despite its smaller size, Sproutly is looking to revolutionize the cannabis beverages industry and become a shiny buyout target for larger players.
Sproutly is Looking to Revolutionize the Cannabis Beverages Industry
Sproutly consists of two companies.
Toronto Herbal Remedies has secured a hard to get permit from Health Canada to grow and sell cannabis. Herbal remedies owns and operates a 16,600 square foot cannabis greenhouse in Toronto designed to cultivate pharmaceutical-grade cannabis.
This looks like a great asset for Sproutly. It gives the company leverage to Canada's high-growth recreational cannabis market.
However, things start to get a lot more interesting when taking a look at the second company in the Sproutly portfolio.
In early May, Sproutly announced it was buying Infusion Biosciences, a cannabis biotech with a new technology that could revolutionize the cannabis beverages industry.
Infusion has developed a process called APP Technology (Aqueous Phytorecovery Process) that recovers water-soluble cannabinoids that can be absorbed into the system within 5 minutes and discharged within 90 minutes.
Think of APP as high-speed intake and discharge of cannabis without having the health risks of having to smoke or the delays of your typical edible.
Here is the official explanation from Sproutly.
"APP Technology is a patent-pending process that uses proprietary combinations of common dietary ingredients to gently recover naturally water-soluble cannabinoids and also the free cannabis oils in natural oils. APP Technology recovers between 85% – 90% of the total bioactive cannabinoids in the plant, distributed between Infuz20 and Bio-Natural Oil."
Sproutly Closes Acquisition of Infusion Biosciences Canada and SSM
Cannabis drinkables are expected to be on one of the largest and fastest growing segments of the cannabis industry, particularity with big alcohol recently making a big push into the cannabis sector.
This looks like a major technological breakthrough for the cannabis industry that could have a huge impact on cannabis beverages.
Sproutly Has Traded Mostly Sideways Since Going Public Last Month
Sproutly has been mostly range-bound between $.50 and $.60 since shares began trading on July 9.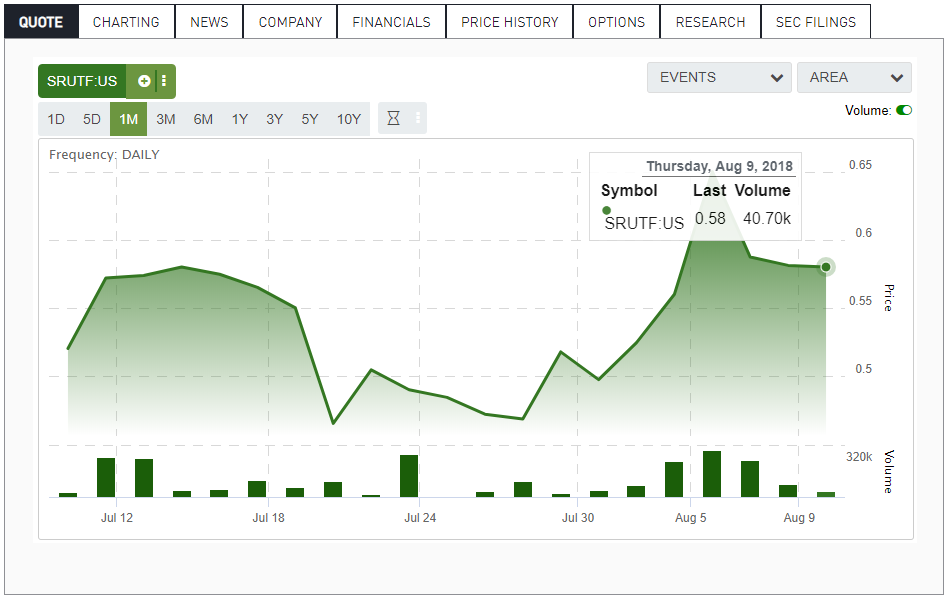 Risks to Consider
Sproutly has a lot riding on the success of its patent-pending APP Technology. I expect the cannabis greenhouse to provide a steady stream of revenue, but expect Sproutly to trade directly related to the success of its APP Technology.
The Big Picture
Sproutly is a small, speculative play in the cannabis sector. The company's APP Technology could be a game changer in the cannabis beverages market. Sproutly also looks like a great buyout target for a larger cannabis company that wants to utilize its cannabinoid extraction technology.
Enjoy,
The information contained in this post is for informational and educational purposes only. The trading ideas and stock selections represented on the Cannabis Stock Trades website are not tailored to your individual investment needs. Readers and members are advised to consult with their financial advisor before entering into any trade. Cannabis stocks carry a certain level of risk and we accept no responsibility for any potential losses. All trades, patterns, charts, systems, etc. discussed are for illustrative purposes only and not to be construed as specific advisory recommendations. All ideas and material presented are entirely those of the author and do not necessarily reflect those of the publisher.