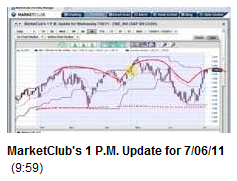 Hello traders everywhere.  Adam Hewison here, co-founder of MarketClub, with your 1 p.m. market update for Wednesday the 6th of July.
The stars of the show today have to be the metal markets. Gold has rallied $50 from the low that we witnessed last week and is up over 1% today.  Silver is even better with a rally of 1.82%. It seems as though the global anxiety factor is creeping back into the markets and people are getting more and more distrustful of what's going on in the world.
The question is, can the Democrats and Republicans stop their bickering long enough and come to an agreement on the debt ceiling? Eventually, I'm sure there will be some sort of compromise that will probably make both the liberals and the conservatives mad. It's really time to stop all this bickering and start making some hard and difficult choices. I'm not sure the current set of politicians have the chutzpah to do this.
The banks stocks took a little hit today and it's clear that these stocks are not out of the woods yet.
Let's take a look at how things are shaping up today and go to the charts to see how we can protect and make your money grow. Click here to watch the video. Continue reading "Metal Markets steal the spotlight" →