Hi Traders,
It's not often that 3 stocks jump out as must-owns! Sometimes you see stocks and think, "Man, I should have bought those!" But I found 3 stocks this weekend that seem like no-brainers. The technical and fundamental support suggests that these are stocks that are ready to move now.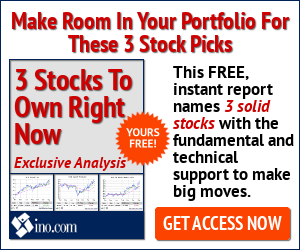 I just finished up this complimentary report which...
• Shares the identity of these 3 stocks.
• Explains why these big-name stocks are set-up for an upside move.
• Tells you when you should make a move.
View this report: 3 Stocks To Own Now! I hope you enjoy this report and are able to capitalize on these hot stocks.
Enjoy!



Wayne Burritt
Market Research Contributor
INO.com, Inc.