Written by: Octafinance.com
Even though we are long-term bullish on gold and silver we are negative medium-term. The Silver chart shows a technical setup with a possible target of a $12 per ounce.
Long-Term Silver Price Chart Still Positive
There is so much to see on the silver chart that we feel obligated to share our interpretations for the future price movement. We will start with the big picture. The whole move of 180%+ from $18 to $50 between 2010 and 2011 had only a minor correction. When the price crossed the upper channel of the long-term chart going back to 2002, it alerted us that silver is out of sync with normal markets.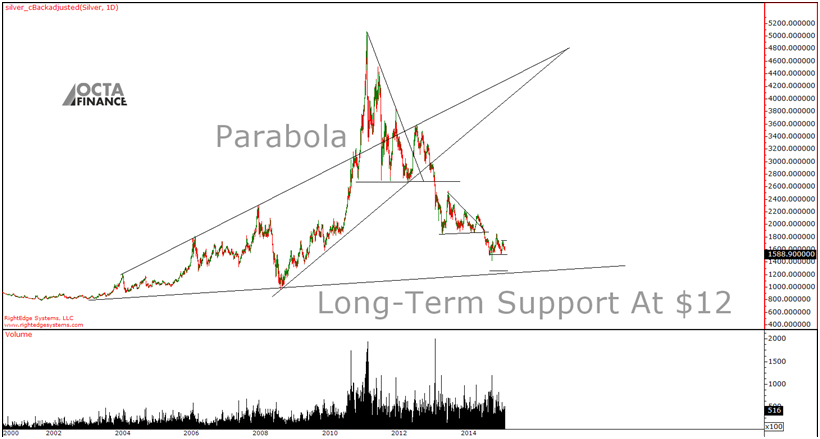 Source: Rightedgesystems + Octafinance Interpretations
Of course as with any parabolic movement, the trend was not sustainable. Silver couldn't break $50 per ounce barrier and sellers' came. The CME also increased the margins which forced all longs to cover (sell), as the sentiment was more than positive "98% of all traders were bullish silver" according to the Daily Sentiment Index (DSI). What happened after that is obvious from the chart, silver experienced a few technical setups that all broke down, reverting the parabolic movement to the upside down. Now based on the long-term support line formed during the last 13 years, we have a support around $11-$12 per ounce. Continue reading "Silver Price Could be Headed to $12" →