Yep, it's the same old story; once again, Japan is just muddling through. Private consumption is weak and inflation is practically non-existent. And inflation could get worse with the latest plunge in oil prices. And with Japan barely slogging through, investors' call for the BoJ to amp its efforts are on the rise.
So what's the problem? In the eyes of the BoJ, the situation isn't really bad enough to require further intervention.
What The BoJ Sees
So why wouldn't the BoJ want to add any more gunpowder to an already aggressive stimulus plan? The answer comes in two parts.
The first part was covered extensively in my last article and thus needs little elaboration. That is the BoJ wants the Abe government to shoulder some of the burden. It needs to fulfill its own side of the bargain and push forward much needed financial reforms.
And the second part? The BoJ wants to hold some gunpowder in its arsenal... just in case things get worse. With the Chinese stock market meltdown radiating across the world, the BoJ wants to make sure it has enough "weapons" to unleash. But so far, in the eyes of the BoJ, it's not yet bad enough to risk the economy.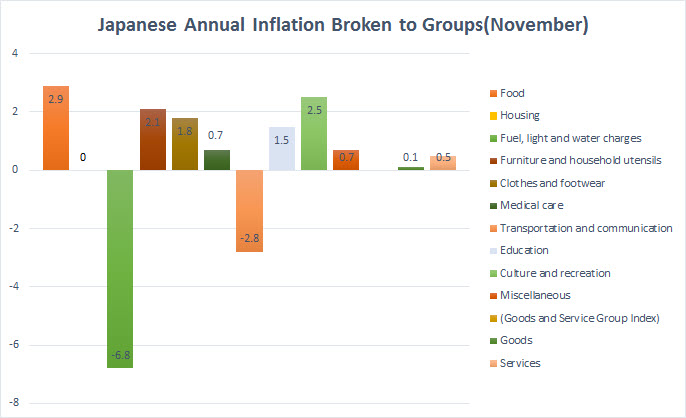 Chart courtesy of The Statistic Bureau of Japan
Let's take a quick look at the latest key data. November's inflation figure (annualized), albeit rather low, still wasn't the textbook definition of deflationary pressures. From a total of 10 various segments, from food to energy to housing, only transportation and energy fell on an annual basis while Housing prices were unchanged at 0%. Despite the dismal numbers, for deflation to be a risk, prices of most items need to fall. And as the chart below shows, that has yet to happen. Continue reading "Bank of Japan To Release More Stimulus?" →