"The following is an excerpt from Tim Snyder's "Weekly Quick Facts" newsletter. Tim is an accomplished economist with a deep understanding of applied economics in energy. We encourage you to visit Matador Economics and learn more about Tim. While there, you can sign up for his completely free Daily Energy Briefs and Weekly Quick Facts newsletters."
Last week's jump in retail gasoline gives the US another dubious record, the highest average price ever recorded. Diesel is tracking back into record territory, as well. Families and businesses alike across the country feel the pain of these economy-killing prices continuing to spike. In interviews across the US, economists are being asked how much higher can these prices rise. The answer is always sobering.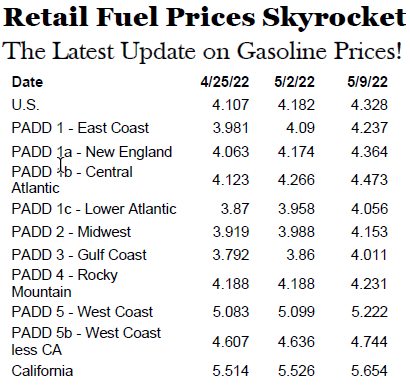 With no intention of changing the direction the Biden Administration is heading, some are speculating that we may see diesel over $8.00 per gallon and gasoline over $6.00 per gallon by Mid-Summer.
We must remember that this time of year represents planting season for our nation's farmers and graduation for so many of our young folks. It also represents the beginning of the "Drive Season" and a time when families travel for vacation. Continue reading "U.S. Records Another Record For Retail Gasoline" →