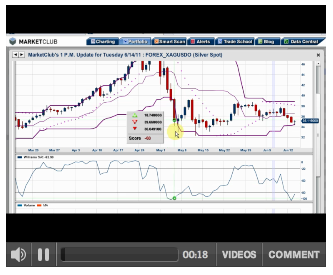 Good afternoon and thanks for stopping by for the 1PM Afternoon Update.
Hello traders everywhere!
Adam Hewison here, co-founder of MarketClub, with your 1 p.m. market update for Tuesday, the 14th of June.
Okay, here's what's happening right now in the major markets ...
SP 500: -60. This market remains in a broad trading range with resistance coming in beginning at 1296 and 1305 and finally 1315 which represents a 62% Fibonacci retracement. Major downside support is at 1250.
Silver:-60. Currently this market is oversold, however it is in the state of flux with no clear trend. Using the Donchian Channels and the fact that this market is oversold, expect to see a bounce from current levels. Major Support at $34.00.
Gold: +55. Gold is currently oversold and we expect to see some further sideways action or a move to improve levels. The Donchian channel comes in at 1503. Major support at $1,500.
Crude Oil: -60 Trading range. Long term indicator remains positive. Support coming into this market at $96 a barrel. Market is currently oversold. Choppy market.
The Dollar Index: -85. The longer term and mid-term Trade Triangles remain in a negative position. Resistance now at 75.00 and 76.50. Minor support at 73.50. Major support at 73.00.
The Thomson Reuters/Jefferies CRB Commodity Index: +55. Near-term resistance at 350.00. Minor support at 340. Major support at 335.00. Trading range.
-----------------
Yesterday we showed you how to find winning trades using our Trade Triangle Technology. The market we found yesterday, Fairchild Semiconductor ( NYSE_FCS ) is higher today, however it is still in a negative zone.
Let's see what else we can find using MarketClub's Trade Triangle technology.
Every success,
Adam Hewison
President of INO.com
Co-founder of MarketClub
** Note: All of the MarketClub updates will now be available through INO TV. Though you do have to register for INO TV, it is completely FREE and best of all, it will let you find all of MarketClub's videos in one place. You only need to register one time and then you have access forever!