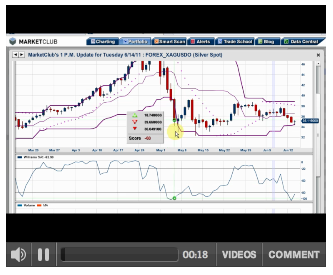 Good afternoon and thanks for stopping by for the 1PM Afternoon Update.
Hello traders everywhere!
Adam Hewison here, co-founder of MarketClub, with your 1 p.m. market update for Tuesday, the 14th of June.
Okay, here's what's happening right now in the major markets ...
SP 500: -60. This market remains in a broad trading range with resistance coming in beginning at 1296 and 1305 and finally 1315 which represents a 62% Fibonacci retracement. Major downside support is at 1250.
Silver:-60. Currently this market is oversold, however it is in the state of flux with no clear trend. Using the Donchian Channels and the fact that this market is oversold, expect to see a bounce from current levels. Major Support at $34.00. Continue reading "Gold and silver are oversold... time to buy?" →