Hello traders everywhere! Adam Hewison here, President of INO.com and Co-creator of MarketClub, with your mid-day market update for Friday, the 1st of November.
Last month was a great month for many investors, myself included, as all of my stocks moved in a favorable direction. I see little reason to change my analysis of the markets as I expect them to continue to move higher in November. This is partly due to the Fed continuing with its $85 billion a month bond buying binge. With Apple's iPad going on sale worldwide today, I see great sales coming for the retail sector as the public buys into the holiday season.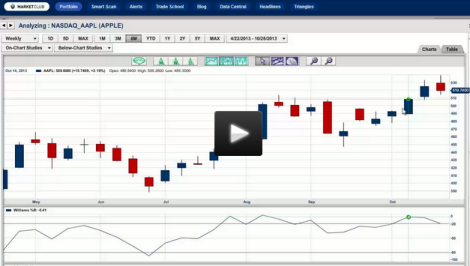 One major concern on the horizon is the roll-out of the "Affordable Care Act" (Obamacare), which is going to have an effect on one sixth of the economy here in the United States. So far, the roll-out has been a big disappointment, as many people are seeing potential increases in their insurance rates with this new plan. If rates increase substantially, then that money will be coming out of the economy, which will not necessarily be a good thing.
Another concern is the Fed, as it sails into uncharted waters. Ms. Yellen, who succeeds Helicopter Ben, has no playbook draining the punch bowl and successfully ending the quantitative easing program we have been on for the past four years. Unfortunately, no one else at the Fed has any idea how to stop the printing presses. I am, like many investors, concerned about 2014, but for now as the Fed continues to fill up the punch bowl, I am enjoying the party.
NetFlix (NFLX) Is On The Move
I continue to like Netflix (NASDAQ:NFLX) as the Trade Triangles remain in a positive mode for this stock. A move and close over the $330 level today should be viewed as a positive sign for this stock as it once again recaptures its upward momentum. I don't believe that the final chapter for this stock has been written.
Apple's (AAPL) New iPad Could Push The Market Higher
Apple's (NASDAQ:AAPL) new iPad goes on sale today worldwide and judging from the early feedback from Asia it is going to be what Tim Cook described as an, "iPad Christmas." I'm still looking for this market to move higher until the end of the year and have hard targets set for a move to the $580, possibly $600, level.
Will Amazon (AMZN) Make It To $400?
I really like the way the way Amazon (NASDAQ:AMZN) is acting. For the past four or five days, this stock has been consolidating its recent gains as it prepares to move higher from current levels. Amazon is higher for the week and closed out an extraordinarily good October. I'm looking for the Amazon story to continue and move higher, possibly to the $400 level by year's end.
Talisman Energy (TLM) Level To Watch : $12.85
Talisman Energy (NYSE:TLM) put in a star performance last month with a stellar gain of 8.5%. A close today over $12.85 will be the highest close for this stock in over 12 months. Should this happen, I would add to long positions as I expect this stock to begin to accelerate to the upside. I'm looking for Talisman Energy to trade as high as $20 a share if there is a breakout over the $12.85 level. All of the Trade Triangles are green for this stock and show a strong upward trend.
Please feel free to leave your comments, feedback, and any questions below.
Have a great trading day,
Adam Hewison
President, INO.com
Co-Creator, MarketClub
Adam appears frequently on the following financial news channels as a guest expert. Click on any cable logo to watch Adam's latest appearance.