Yesterday I talked about Tesla (NASDAQ:TSLA) and how this company could skyrocket based on the potential high prices at the pump and the potential lack of availability of petroleum products.
Today I am going to be taking a similar view, but with a different company, First Solar Inc. (NASDAQ:FSLR). When this company first came on the scene, it moved dramatically higher and in a matter of months was trading well over $300 a share, back in 2008. Since that time, the stock has generally drifted lower for the last several years until hitting a low in June of 2012. After trading below $12, the market has made a steady recovery to where we are today, around $70 a share. I certainly hope no one out there has been holding onto any shares since $300.
I am bullish on FSLR based on a number of factors. The Trade Triangles are all positive, we are in a strong uptrend, and this market could complete a classic Fibonacci retracement that would take it back over the $100 a share level. This stock has also shown a remarkable cyclic tendency and we are presently in a cyclic up-cycle right now.
As I stated in my piece on Tesla, the energy problem is going to remain and probably will deteriorate as the Middle East could go down in flames.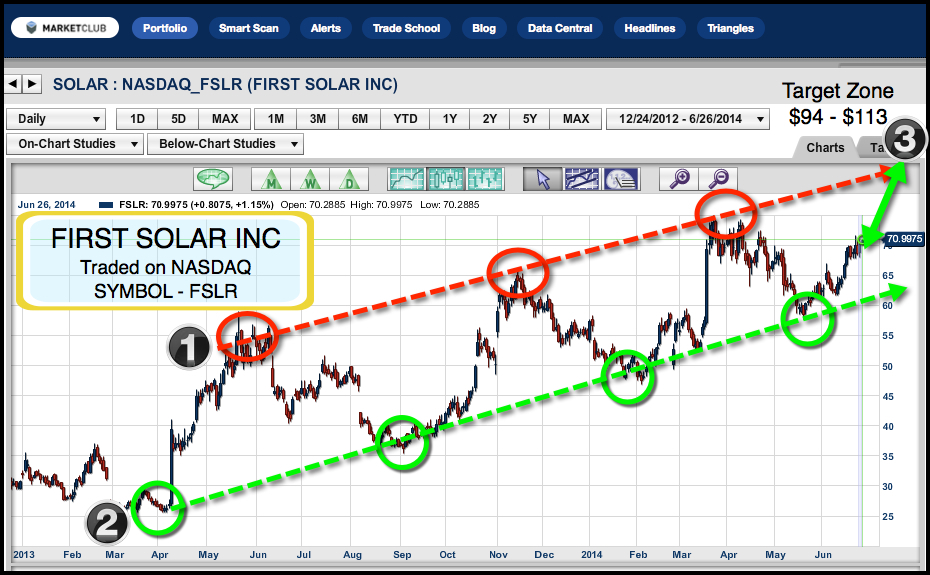 1. Cyclic high periods
2. Cyclic low periods
3. Fibonacci target zone between $94 and $113
Continue reading "Another Way to Play the Upcoming Energy Crisis" →