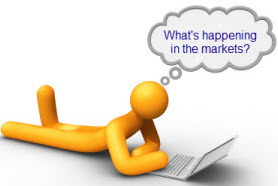 As usual, we have a busy Thursday planned! Not only did you have a LIVE 1PM ET market update,  but Adam and Susan will be coming to you LIVE at 7PM  ET from the studios of MarketClub. This is the first episode of Marketclub TV since Adam's return, so you don't want to miss it!
Watch what you missed from the 1PM ET Update for 5/19/11:
S&P500: -55. As we mention on Monday and Tuesday the Market is very oversold. Long term uptrend remains intact. Market at the lower end of the Donchian Channel. Neutral - Resistance at 1370
Silver: Score -55. possible bullish divergence on the Williams %R indicator.Major resistance at $39.50.Support at $32.00.
Gold: Score +65. Longer term trend remains positive. Support at $1.475 and$1,462.50. Resistance at $1,526.Trading Range
Crude Oil: +70 Trading range. Long term indicator remains positive. Resistance at 100.80 basis June.Choppy market. Possible bullish divergence on the Williams %R indicator.
The Dollar Index: Score +55. In a trading range with the longer term outlook remaining negative.Possible negative divergence. Look for a pullback?? Minor resistance at 76.00 and major resistance remains at 77.50. Minor support at 74.00
The Thomson Reuters/Jefferies CRB Commodity Index: Score -55. Near-term resistance at 348.50. Support at 333.50.Market very oversold on hedge fund liquidation.Bullish divergence on the Williams %R indicator.
Watch tonight's LIVE episode of MarketClub TV at 7PM ET tonight to see how you can win a FREE one year membership to MarketClub!
See you there,
The MarketClub Team