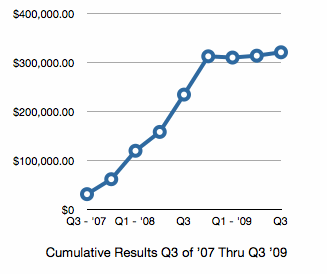 We've had numerous requests for our Q3 numbers and we apologize for getting them published so late. It's not that they are bad, in fact, they are our best quarterly numbers so far for the year. Q4 looks to be stellar and we're looking forward to sharing those numbers with you in the early part of 2010.
So how do we do in Q3?
As you may or may not know we track six markets and have been doing this since Q3 of 2007. The six markets are: corn, wheat, soybeans, crude oil, gold and the dollar index.