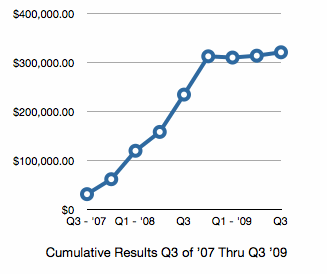 We've had numerous requests for our Q3 numbers and we apologize for getting them published so late. It's not that they are bad, in fact, they are our best quarterly numbers so far for the year. Q4 looks to be stellar and we're looking forward to sharing those numbers with you in the early part of 2010.
So how do we do in Q3?
As you may or may not know we track six markets and have been doing this since Q3 of 2007. The six markets are: corn, wheat, soybeans, crude oil, gold and the dollar index.
In Q3 the big winner in this six-pack was crude oil which produced a profit of $5,920. This was in sharp contrast to the two previous quarters where we lost money in this particular market. Overall, however, crude oil has been an extraordinarily profitable market using our "Trade Triangle" technology. The next market that came in as a positive for us was the dollar index which produced a $3,000 gain. Corn and gold were the only two markets that showed a negative return for the quarter.
The key, as we have said in previous results, is the diversification and the benefit you get from being diversified. Not only does it reduce your risk, it also has the ability of the enhancing profits.
The results shown are based on a hypothetical account of $50,000. Commissions of course would make a difference in the results, but are not counted in the numbers below. For the quarter, the portfolio results produced a return of 13.9%.  Again this is in sharp contrast to the returns that were seen in Q4 '08. At the time we mentioned that these over-the-top returns were probably unsustainable in the future. I believe that the results in the future will be a combination of big moves in some calendar quarters and smaller losses or gains in other quarters.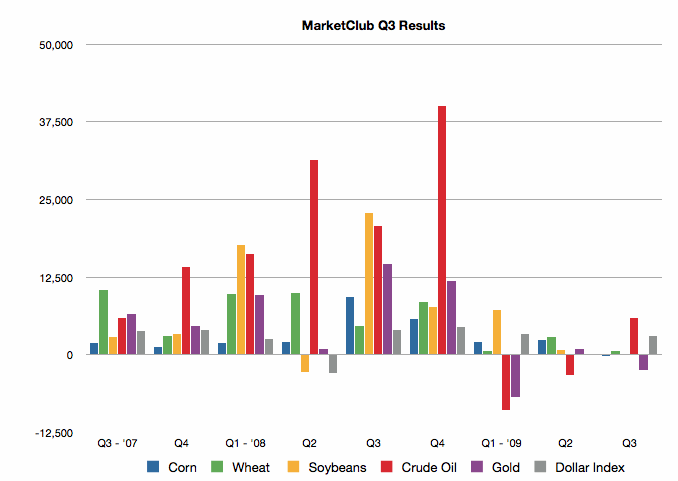 As you can see from the charts that accompany this text, overall there has been a steady upward trend in the cumulative results.
On the whole, this portfolio has proven to be 89% correct on a quarterly basis. The one market that has shown consistent profits every quarter has been the wheat market. We would not, however, recommend just trading wheat because it has such a good record. It is important to diversify your holdings into several different markets even though sometimes these markets will have a negative impact on performance. In general, they will not diminish your ROI, but rather they will enhance it.
As with any investment approach there are no guarantees and there are no guarantees that this strategy will work in the future. It is also important to know that the numbers that we show are hypothetical and not based on actual trading in the market. Actual market conditions can cause slippage and markets being unable to be filled at certain levels. You need to take all of these into consideration when deciding on a market approach.
The approach that is used for this portfolio is based on our "Trade Triangle" technology and recommended strategy to filter the "Trade Triangles" in such a way as to put the odds in your favor.
As we stated earlier, Q4 is shaping up to be a excellent quarter and we look forward to presenting the numbers to you in the early part of the new year.
Every success in the future,
Adam Hewison
President, INO.com
Co-creator, MarketClub