The Dollar
In my last monthly update, I examined a chart of the US Dollar Index and today, I will do it again to show you how king currency rules this dollar-denominated world swing-to-swing. There is one difference; this time it will be an Elliott Wave analysis and I hope you will enjoy it.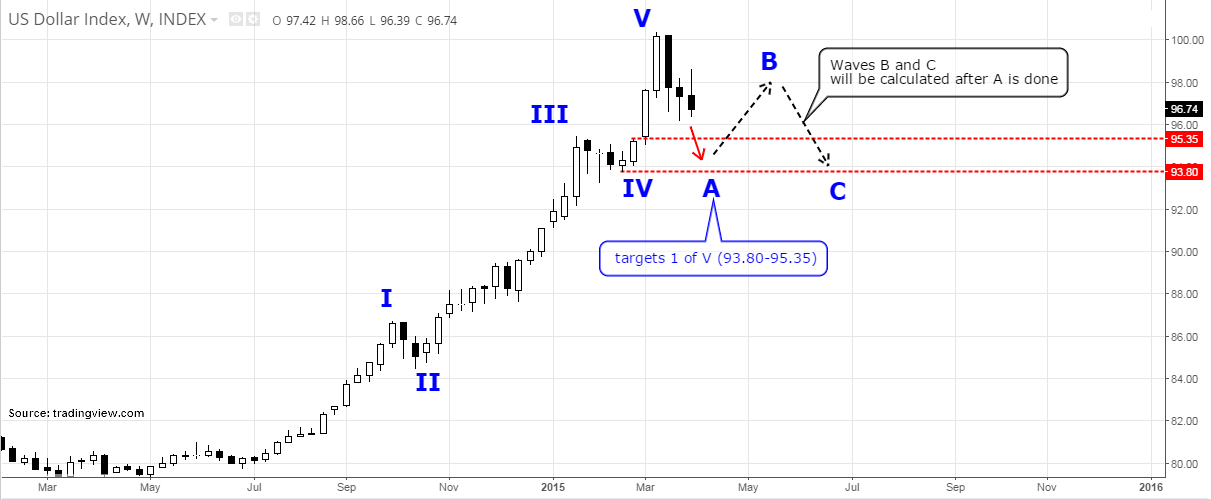 Chart courtesy of Tradingview.com
As seen in the above weekly chart, right after my monthly post, the Dollar Index started its long-term correction, dipping below the important 100 level. The Index built a strong upward trend from last summer. The last impulse Wave V exhausted just after knocking out the psychologically important 100 level. But, despite this, it couldn't reach the 106 level target. Now it is in an A-B-C correction. Wave A is underway, which started just above the 100 level. It is streaming to the Wave 1 of the V area (highlighted by two red horizontal dashed lines between 93.80 and 95.35). We could go down another 3%. Since March 16, 2015, the Dollar Index has already lost almost 3.7%. Contrary to this loss, the major rivals: Gold; EUR (vs. USD) and Crude Oil, gained 4.6%; 4.8% and an impressive 15.5% respectively. Moves were simultaneous, except Crude oil, which shifted up only two days later.
Another dollar weakness will empower further strength of its opponents in different extents. However, I want you to keep in mind that it is just the correction of a major Dollar uptrend. The US Dollar uptrend should resume after 1-2 quarters if the model is not valid or if major trend reversal is not likely to happen. Until then, enjoy the bearish Dollar correction and follow the trend.
Gold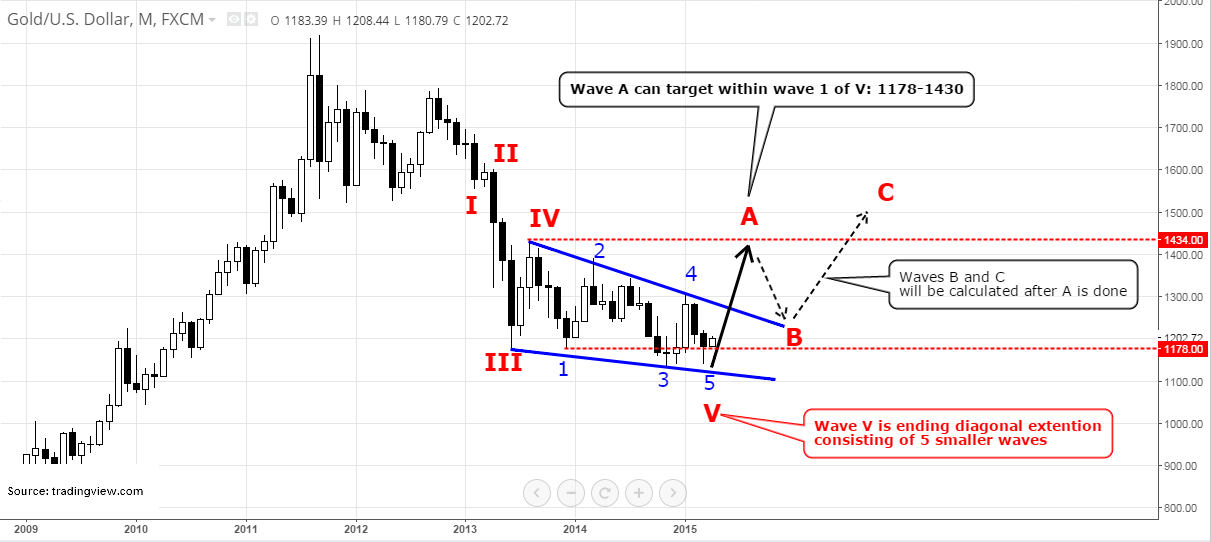 Chart courtesy of Tradingview.com
In the above monthly chart, one can see that Gold is still in consolidation within a blue Wedge pattern that I showed you in my previous monthly post. The Elliott Wave chart brings more clues to the current consolidation picture. Last month ended down and so did the 5th wave of V, which is ending diagonal extension (5 blue smaller degree waves in blue Wedge pattern).
Before continuing with wave development, I would like to tell you a bit about extension. Such unusual waves often occur when the preceding move of the trend has gone too far, too fast, and has run out of steam. All of this we can see in the above chart of Gold. All three preceding waves (I-III) pushed down the price too fast. $615 or 35% evaporated in less than a year.
Wave A has now kicked off and it can reach the upper bound of wave 1 of V at $1434 level. So now, you can see the difference with the Elliott Wave add-on. No more waiting for $1300 break-up, the wave is showing the way.
The bulls should set a stop below $1170 (last week's low area) while profit could be harvested above $1300 up to the $1434 area. When the price closes above $1230 (recent peaks area), move your stop to break even. $30 risk versus $100+ gain: 1:3, nice game plan you can enjoy!
Keep in mind that it is a middle-term correction and that the trend overall is bearish.
Intelligent trades!
Aibek Burabayev
INO.com Contributor, Metals
Disclosure: This contributor has no positions in any stocks mentioned in this article. This article is the opinion of the contributor themselves. The above is a matter of opinion provided for general information purposes only and is not intended as investment advice. This contributor is not receiving compensation (other than from INO.com) for their opinion.