OPEC's grand plan to cut production to drain blotted global oil inventories was a miserable failure in the first half of 2017. Total OECD stocks actually rose by about 75 million barrels by end-June from when the deal went into effect beginning in January.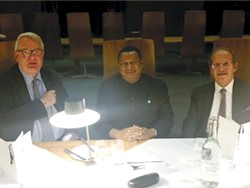 But seasonal oil demand shifted into high gear in July and August. Inventories in the U.S., the largest oil consumer and the most data-transparent country in the world, dropped about 35 million barrels, given record-high demand for crude at U.S. refineries and relatively strong mid-summer product consumption.
This brief hiatus to OPEC's failure to drain stocks in the first half of 2017 was already set to reverse when refineries performed their fall maintenance, reducing crude demand, and the summer driving season came to a close. But the two hurricanes, Harvey and Irma, accelerated the demand-destruction process.
About 3.2 million barrels a day (mmbd) of refinery throughputs were reduced by the Gulf hurricane, while petroleum product demand dropped 1.5 mmbd from the prior week. The impact of Irma on Florida and elsewhere in the Southeast is still uncertain and ongoing. Goldman Sachs has estimated that U.S. petroleum product demand may be nearly 900,000 b/d lower in September, and 300,000 b/d lower in October, as a result of the storms. Crude demand may average another million barrels per day lower due to problems reported at some refineries.
Normal refinery maintenance is expected in October and November. As a result, the Energy Dept. is forecasting a U.S. crude stock build of 25 million barrels in September and October. Bank of America forecasts a build of at least 40 million barrels.
OPEC noted in its September Monthly Oil Market Report that OECD stocks are 195 million barrels above the five-year average as of the end of July. The goal of OPEC's deals was to bring OECD levels down to their 5-year average. Now, the Energy Dept. projects in its September Short-Term Energy Outlook that OECD stocks will end the year at 2.995 billion barrels, 28 million barrels higher than when the OPEC deals went into effect.
Nonetheless, OPEC Secretary General Mohammed Sanusi Barkindo stated in a dinner address at Oxford on Monday, "It is clear that the rebalancing process is underway, supported by the high conformity levels of OPEC member countries and participating non-OPEC countries to the production adjustments" in the cooperation agreement.
Russia is a key non-OPEC ally to the cooperation agreement. However, at the beginning of June, Russia's Economy Minister Maxim Oreshkin said that Russia was "actually ready to live forever at oil prices $40 or below," as oil at US $40 is the current underlying key assumption of Russia's economic policies. Igor Sechin, the CEO of Russia's largest oil producer, Rosneft, expects oil prices to average between $40 and $43 per barrel next year and is preparing for such prices.
Check back to see my next post!
Best,
Robert Boslego
INO.com Contributor - Energies
Disclosure: This contributor does not own any stocks mentioned in this article. This article is the opinion of the contributor themselves. The above is a matter of opinion provided for general information purposes only and is not intended as investment advice. This contributor is not receiving compensation (other than from INO.com) for their opinion.