The Energy Information Administration (EIA) reported that November U.S. crude oil production averaged 10.038 million barrels per day (mmbd) in November, up 384,000 b/d from October. The monthly product number was just shy of the 10.044 mmbd record set in November 1970. This gain was on top of a 17,000 b/d upward revision for October, making the total rise 401,000 b/d. By comparison, the Saudi production cut was about 460,000 b/d.
About 200,000 b/d of the increase was expected since Hurricane Nate had disrupted production in October by about amount. But about 175,000 b/d of the rise was new production. The bulk of the increase was in Texas, accounting for 114,000 b/d. Production in the mid-west was up 23,000 b/d. Gains were wide-spread among numerous states.
Production has surged by 846,000 b/d from September through November. This increase is far more significant than the one reported by the EIA in its weekly numbers or forecast by the EIA in its monthly STEO. The interpolated weekly figures for November imply a monthly average of 9.667 mmbd, 371,000 b/d lower. And the latest weekly average reported by the EIA was 9.199 mmbd. Clearly, the EIA will need to upwardly revise its weekly model soon, probably in next week's report.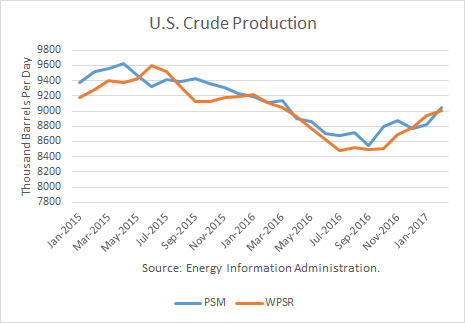 This significant rise adds to mounting evidence that U.S. crude oil production is rising quickly, with a lag, since oil prices broke above $50/b. The EIA is projecting that shale oil production will increase another 111,000 b/d in February. And Baker-Hughes reported a rise in the rig count in the Permian Basin for the week ending January 26 of 18, such that the gain was 47% v. the same week a year ago.
Last week, Khalid al-Falih told reporters, "We should not be scared" about shale ruining OPEC's plans in 2018. The near record-high crude production figure and rise over the past few months, combined with significantly higher crude prices, implies production may exceed 11.0 mmbd before the end of 2018.
Daniel Yergin predicts that U.S. crude oil production may exceed 12 mmbd by the end of 2019. And Harold Hamm, CEO of Continental Resources, said "The Bakken's demise was over exaggerated. The Bakken is back stronger than ever. The technology works better there than anywhere else." Hamm predicts that the U.S. may become a net oil exporter by 2020. Even though the U.S. imports about 8 mmbd, its crude exports have risen to around 1.5 mmbd of late. Also, the U.S. petroleum product exports have averaged around 5 mmbd.
What is often overlooked is "other supply." The EIA includes liquid fuels, such as natural gas plant liquids and renewable fuels, in petroleum supply. Their production has risen even faster than crude oil and is about 6.2 mmbd.
Conclusions
The surge in November U.S. crude oil production implies that the EIA's forecast for 2018 production is far too low. As a result, global oil inventories are likely to rise, even if OPEC maintains its production level at the 33.2 mmbd it has forecast for the year. This rise in stocks is likely to reverse the rise in oil prices since December.
More significantly, as the U.S. gets closer to becoming a net exporter of oil, there will be favorable impacts on the balance of trade and the dollar. A stronger dollar will put even more downward pressure on oil prices in coming years.
Check back to see my next post!
Best,
Robert Boslego
INO.com Contributor - Energies
Disclosure: This contributor does not own any stocks mentioned in this article. This article is the opinion of the contributor themselves. The above is a matter of opinion provided for general information purposes only and is not intended as investment advice. This contributor is not receiving compensation (other than from INO.com) for their opinion.