"The following is an excerpt from Tim Snyder's "Weekly Quick Facts" newsletter. Tim is an accomplished economist with a deep understanding of applied economics in energy. We encourage you to visit Matador Economics and learn more about Tim. While there, you can sign up for his completely free Daily Energy Briefs and Weekly Quick Facts newsletters."
What is it about the truth that scares people?
Gasoline prices this week took a bit of a respite after several weeks of steep climbs. The relief at the pump is palatable and very much appreciated by those on fixed budgets. But the fall from record highs, may not continue if inflation continues to run unchecked.
Diesel prices fell as word of another variant of Covid-19 seems to be making the rounds. The Chinese Government shut in 26 million people this week, sending a signal that demand for the products may falter over the next couple of weeks.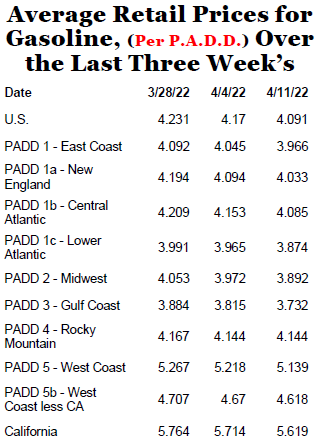 Are we at the end of the pandemic or the beginning of a recession? Continue reading "End Of The Pandemic Or The Beginning Of A Recession?" →