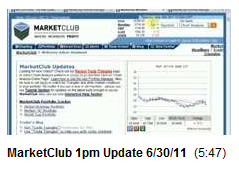 Here is your 1p.m. update for Thursday, June 30th. Today Susan reviews the very bullish market that we seem to be trading in this week. Susan also gives you some pointers on how to follow the "52-week new highs on Friday rule." If you have forgotten what those rules are, we have posted them here as a refresher. Watch today's update now!
These are the only three rules you need to trade with "The 52-week new highs on a Friday rule" successfully.
On a new 52-week high, when the market closes at or close to its high on a Friday, buy long and go home long for the weekend.
Exit the long position on the opening of the following Tuesday.
If the market opens sharply lower on Monday, exit the position immediately.
"The 52-week new highs on a Friday rule" works extremely well in futures and in the Forex markets. This rule can be reversed for "The 52-week new lows on a Friday rule" if you are so inclined to trade the short side of the market. The same rules apply.
So, there you have it!
Did we miss a symbol you would like current analysis on? Get current analysis on over 230 symbols emailed to you for free!
Best,
The MarketClub Team