OPEC released its Monthly Oil Market Report (MOMR) for January, and its projections for 2018 imply a 29 million barrel global stock build, in contrast to 140 million barrel draw it estimated for 2017. As a result, it will not clear the glut, which OPEC estimates to be at 133 million barrels, at the end of November, based on the "latest five-year average."
In 2017, OPEC production averaged about 32.5 million barrels per day (mbd), adjusting for the change in OPEC membership (i.e., with Indonesia's 740,000 b/d).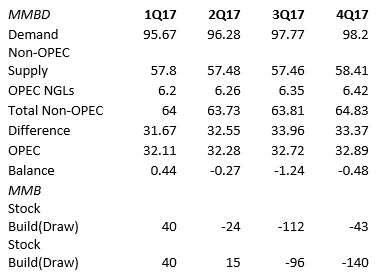 In 2018, I have assumed OPEC production averages 33.2 mmbd, which is OPEC's forecast (December) of its 2018 production. However, OPEC production averaged 32.416 mmbd in December.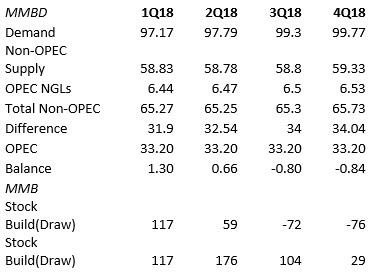 OPEC projections imply that global stocks will build much more quickly in the first half of 2018 than they did during the same period in 2017. And the stock draws in the second half of 2018 are expected to be smaller than they were in 2017. Continue reading "Global Oil Stocks to Build in 2018" →