In my earlier posts I showed you how gold and crude oil broke out of their trends. Gold moved higher amid an oil break down. The simplest trade here is the purchase of gold on the dip and the sale of oil on pullbacks. Today I want to share with you some other options. We can use oil related currencies instead of oil as they tend to lag and overreact to oil moves.
Chart 1. Gold Vs. Russian Ruble Weekly: Say Hi To A New High!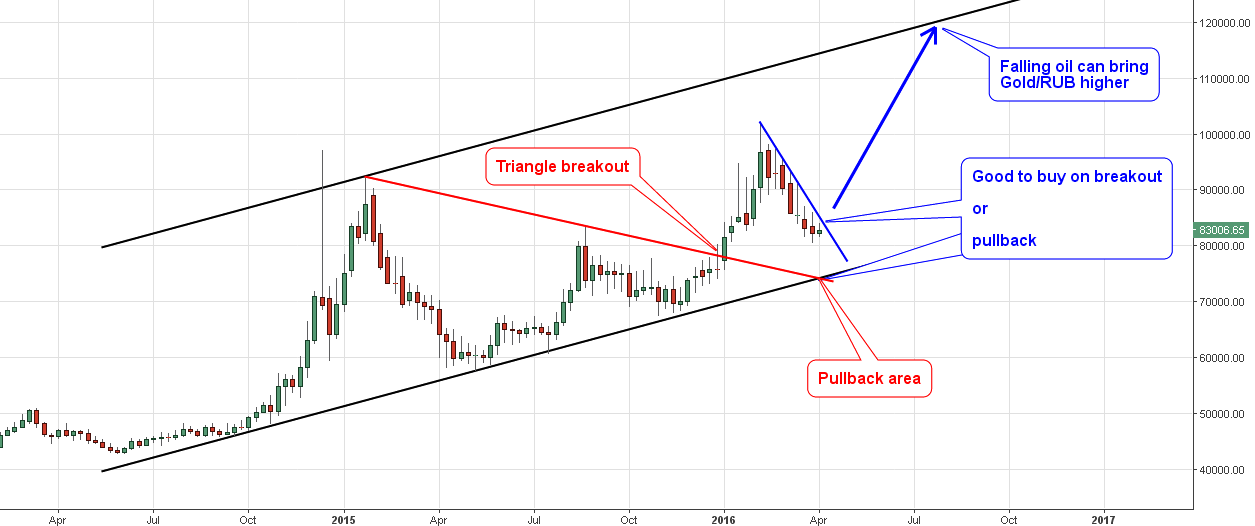 Chart courtesy of tradingview.com
The currency of the world largest country stopped strengthening only last Friday despite that oil reversed much earlier. I call this an overreaction of the currency to the oil move. I guess it's all about the mechanical reaction of retail USDRUB sellers to the ruble and oil strength which was gone long before they started to act. Usually, non-professional players tend to sell bottoms and buy tops on market panic. Another good thing in this market is that while the ruble was strengthening gold pulled back down, giving potential buyers extra bonuses (falling gold + overreacting ruble).
The Gold/RUB pair has been in an uptrend for 2 years. At the start of 2016 the market it broke out of the triangle above the RUB 78K level and then rapidly moved higher. It topped beyond 2015 high at RUB 101,858 level in February. Continue reading "Gold And Oil Breakout: We Can Benefit!" →