On Tuesday we witnessed the S&P 500 and the DOW make new all-time highs. What is the significance of this? If you've been following my work and reading our comments then you're probably familiar with the 52-Week New Highs on Friday Rules which go like this:
Rule #1: On a new 52-week high, when the market closes at or close to its high on a Friday, buy and go home long for the weekend.
Rule #2: Exit the long position on the opening the following Tuesday.
Rule #3: If the market opens lower on Monday, exit this position immediately.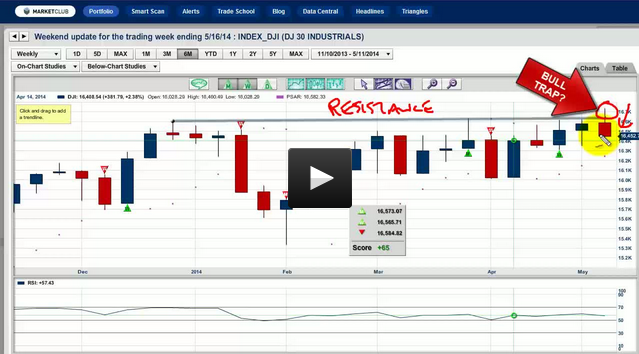 Since making their highs on Tuesday, the DOW and S&P 500 have been steadily moving lower and are in danger of closing lower for the week. Doing so would create a "negative engulfing line." A "negative engulfing line" or "bearish engulfing line," as it is some times called, is when the market price action engulfs the previous open and high period for the preceding week or day. If this turns out to be the case for the DOW and S&P 500 and this coming week they both close lower for the week, then the odds are pretty high that a top is more than likely in place. Continue reading "Were The New Market Highs A Bull Trap?" →