Now some would argue that fundamentals are the most important element in trading, others might argue that technicals are the most important. It might also be argued that perception is the key to trading.
I would have to say there's a certain element of truth in the fundamentals, the technicals, and perception. But to me, the greatest market indicator in the world is the market itself. You can't argue with the market and win.
In today's example, I'm going to look at crude oil futures (NYMEX:CL.V14.E). I think this is an excellent example of how potential fundamental elements did not play out. When crude oil was trading over $100 a barrel, many were calling for it to go significantly higher based on the turmoil in the Middle East and also what was happening in the Ukraine.
Well, the exact opposite occurred as oil tumbled lower month after month. Now you could stick to your guns and say to yourself that fundamentally I think crude oil is going higher. If you had adopted that strategy no matter how logical it may seem to you at the time, you'd be sitting on a tremendous loss at this present time.
Holding onto losses is not the way to trade in any market, whether it's stocks, futures, foreign exchange, ETFs or precious metals. The name of the game is making money - less we all forget.
The market may fool you every once in a while, but what program or approach doesn't do that? But overall, the market gets it right every time as it is a total of everyone's knowledge. When you have so many brains working for you around the world, how could you not pay attention to what the market is actually doing?
So let's take a look at the October crude oil contract (NYMEX:CL.V14.E) to see how MarketClub's Trade Triangle technology handled the 10% drop over the last few months.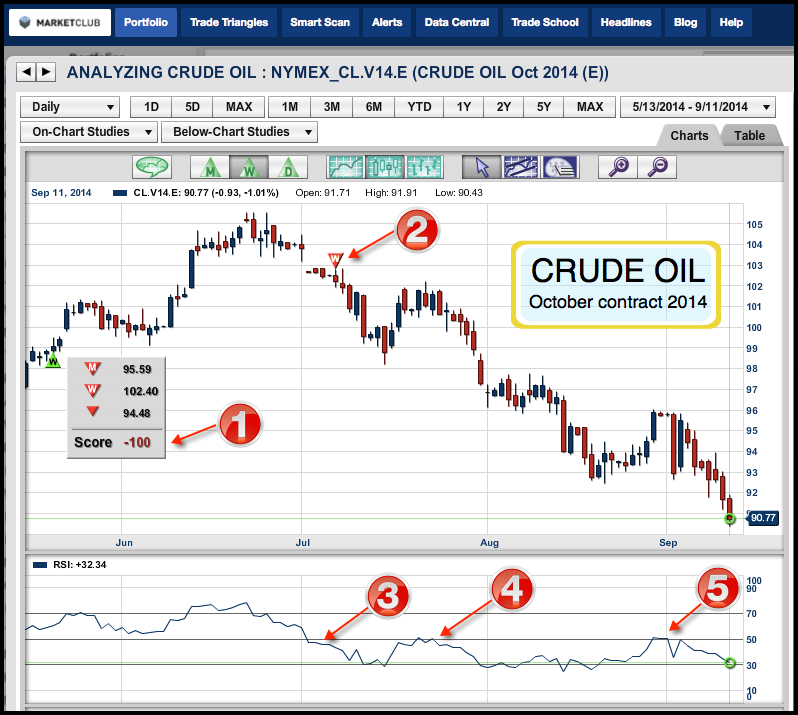 CHART LEGEND
1. All Trade Triangles are red and negative and show a -100 Score.
2. On 7/7/14 the Weekly Trade Triangle indicates a short position at $102.40.
3. RSI moves below the 50 line.
4. RSI now acts as resistance at the 50 line.
5. RSI now acts as resistance at the 50 line.
Every success with MarketClub,
Adam Hewison
President, INO.com
Co-Creator, MarketClub