Crude stocks built by 0.9 million barrels in the week ending March 24th to end at 534 million barrels, 30.2 million larger than a year ago, setting a new record high. But crude oil exports also surged to 1.010 million barrels per day.
The stated objective of the OPEC production cut is to reduce OECD global inventories back to their five-year average. The U.S. has the largest excess inventories of any OECD country, and also publishes the most transparent, timely data, and so I had expected OPEC to target reductions in its exports to the U.S.
But based on Energy Department statistics for the weeks ending March 24, 2017, U.S. crude imports from Saudi Arabia averaged about 1.240 million barrels per day in the year-to-date. Saudi Arabia is the second largest source of imports behind Canada. That figure was about 30% higher than in the same weeks last year, and about 17% higher than during December, before its production cuts went into effect.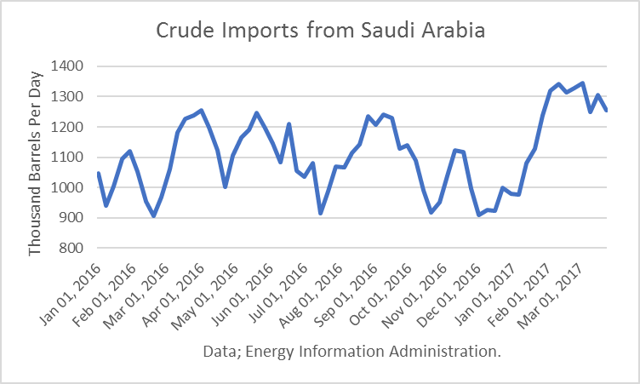 The Saudi energy minister claimed in December that he was reducing tanker nominations effective January 1, 2017, Saudi exports to the U.S. are 178,000 b/d higher than a year ago. Based on the import numbers for the 12 weeks off 2017, there is no evidence of any Saudi production cut. Continue reading "U.S. Crude Oil Exports Could Mean Stocks Are Dropping Elsewhere" →