In early July, OPEC+ rolled-over its December 2018 agreement for another nine months ending March 2020. To get an idea of compliance with that agreement to-date, I compared changes in production from October 2018 (the base period) and June 2019, except for Russia, May 2019 due to a lack of data for June.
I found that OPEC delivered a cut of 2.46 million barrels per day, of 8%. That is more than three times its pledge of 800,000 b/d. The primary reason for such a large cut was sanctions on Iran and Venezuela.
Iran reduced its reported output by 1.3 million barrels per day or 38%. Venezuela reduced its output by 600,000 b/d, or 46%. It's important to understand that both of those cuts were involuntary.
The largest voluntary cut was by Saudi Arabia, 620,000 b/d, or 8%. Saudi Aramco (ARMCO) lifted its production by 200,000 b/d in June from May to 10.1 million barrels per day.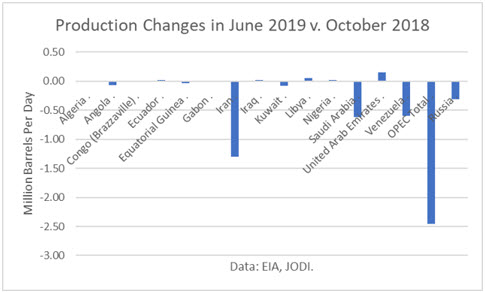 Note: Russia's change is until May 2019. Continue reading "OPEC's Unplanned Outages Supported Oil Prices" →