Hello traders everywhere! Adam Hewison here, President of INO.com and co-creator of MarketClub, with your video update for Wednesday, the 26th of March.
It would appear as though most of the major indices have just been spinning their wheels and going nowhere fast in the past 4 to 5 weeks as they have all been in a broad trading range. This type of market action can lull investors to complacency, but for me it has always been a wake-up call to pay close attention to the market as something big is going to happen.
As I see it, the market is doing one of two things, it's either building a base to move higher or it's a distribution top – only time will tell which is the correct answer.
One of our members suggested that the Dow 30 could be making an inverse head and shoulders formation. Certainly this is possible, but I need to see a clear breakout to the upside to confirm this formation.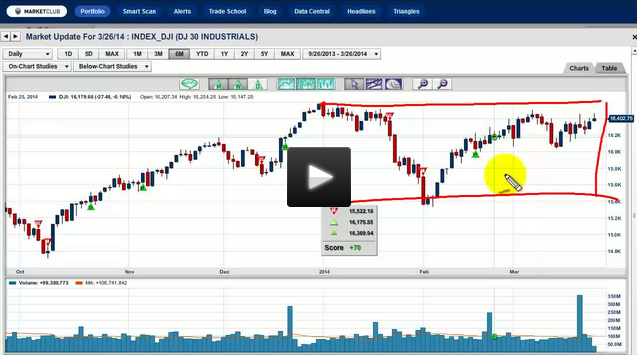 The other concern I have is the damage done to the NASDAQ earlier this week as it fell to a 6-week low. How this particular index closes on Friday is going to be very important in my mind. Again, I will be watching this market very closely for signs of either a continuation of the bullish trend or a top. Continue reading "Are The Markets Just Teasing Us?" →