Back in January, I attempted to answer the question "Is Dollar's Dominance Over?", as the dollar index (DX) had experienced significant losses.
However, we received two conflicting signals from the technical chart, which provided a bearish alert, and the interest rate differentials chart, which indicated support for the dollar.
In both polls, the majority of readers voted that the dollar's dominance was over and that it had already peaked for the dollar index.
Since then, the DX has made a bounce close to $106 with the support of a hawkish Fed, however these gains proved to be unsustainable, and the price dropped back down to hit the valley established in January, reaching a new low of $100.
Is the dollar headed right into the abyss?
Let's take a look at some updated charts, starting with the interest rate differentials.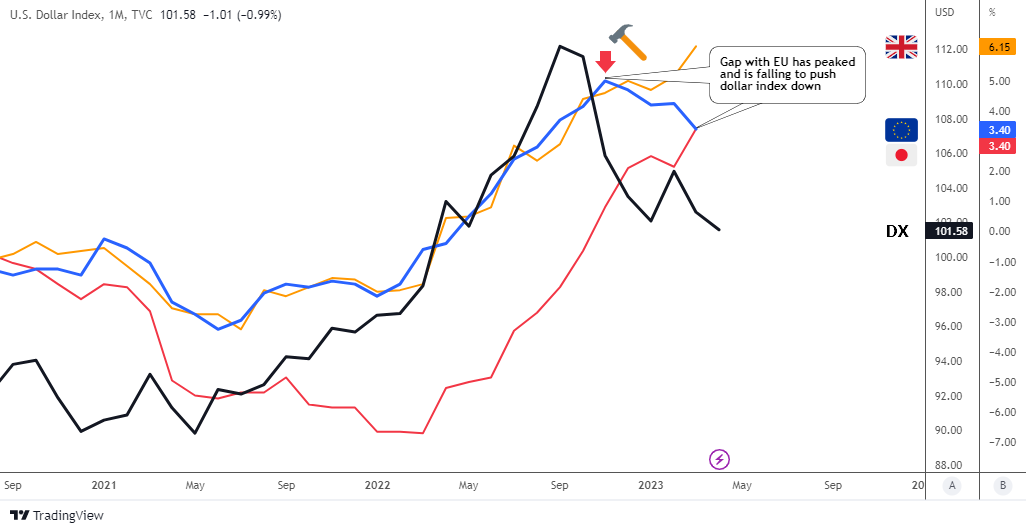 Source: TradingView
This time, I will be using a monthly time frame to provide a closer look at what could potentially cause the dollar to decline. Continue reading "Is The Dollar Headed Into The Abyss?" →