It is time for a traditional yearly post to find out which fiat could beat the conventional store of value this year; all failed last year.
Seven currencies represent the fiat money: U.S. dollar (USD) and six components of the U.S. Dollar Index (DXY) placed by weight: Euro (EUR), Japanese Yen (JPY), British Pound (GBP), Canadian Dollar (CAD), Swedish Krona (SEK) and the Swiss Franc (CHF).
Let us see below how you predicted the future back at the end of December 2020.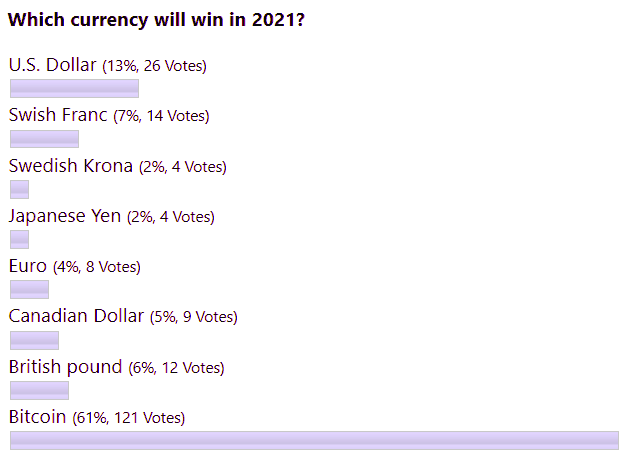 Most of you picked Bitcoin, aka 'digital gold,' to win the race. You were right again; Bitcoin gained more than 80% against the gold this time. I will build a separate leaderboard for cryptos in coming posts as the main coin has its universe with a pack of newbies trying to claim the throne, so stay tuned.
The regular favorite, the U.S. dollar, was the second choice this year. The third bet was not obvious to me as the Swiss franc usually has been lost in the shadows somewhere between regular champions and exotic bets. Continue reading "Top Fiat Currencies vs. Gold in 2021: "The Last Shall Be First"" →