In my earlier post this month, I shared hot trading opportunities for silver and gold. It's time for an update as we've already seen how it played out.
Before we start, I would like to show you the metals performance month-to-date in the graph below.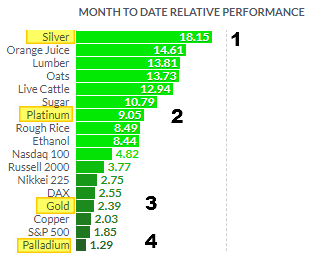 Chart source: finviz.com
This month silver showed the best performance gaining impressive an +18.15%. The second best wasn't gold; it's platinum with a +9.05% gain. Gold is in third place this month, with a +2.39% rise. The most precious of these four metals, palladium, could score only a +1.29% gain.
You were accurate again with your forecast as most of you bet on silver (see chart below) under my last post. Seers in action!

Let's get down to the updated charts, and I will start with silver. Continue reading "Silver Hits Charts As Gold Fails To Perform" →