Hello traders everywhere. Technical traders and the market in general, are closely watching Bitcoin heading into next week. The reason for concern, a looming Death cross. As I noted earlier in the week, Bitcoin's 50-Day moving average has dropped to the closest proximity to its 200-Day moving average in nine months. The last time it crossed below that level was in 2015 where it remained for ten months before breaking out.
The "death cross" pattern occurs when the 50-Day moving average drops below the 200-Day moving average. The idea is that this cross marks the spot where a shorter-term decline is turning into a longer-term downtrend.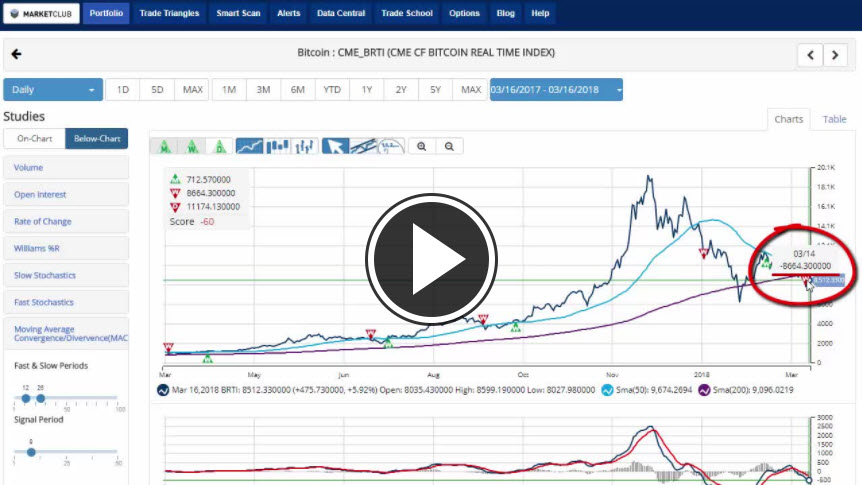 Bitcoin has come under growing pressure recently with Google announcing that they will not only ban all ads for cryptocurrencies, including bitcoin and initial coin offerings (ICOs), they will also ban cryptocurrency exchanges and wallets, as it seeks to "tackle emerging threats."
Regulation is also becoming a growing concern for Bitcoin, and the cryptocurrency space as nations around the world are imposing stricter regulations on the use and mining of cryptocurrencies.
Key Levels To Watch Next Week:
S&P 500 (CME:SP500): 2,647.32
Dow (INDEX:DJI): 24,217.76
NASDAQ (NASDAQ:COMP): 7,084.83
Gold (NYMEX:GC.G18.E): 1,330.50
Crude Oil (NYMEX:CL.J18.E): 60.11
U.S. Dollar (NYBOT:DX.H18.E): 89.33
Bitcoin (CME:BRTI): 11,662.32
Every Success,
Jeremy Lutz
INO.com and MarketClub.com